Santigold Tour: Here's What We Know About the We Buy Gold North American Tour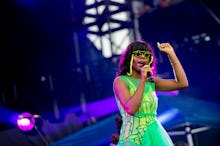 Drew Gurian/AP
On Monday, American singer and producer Santi "Santigold" White announced 2016 tour dates, which will see the artist hit the road in support of her forthcoming record, 99¢ , which Atlantic Records is expected to release on Feb. 26. The We Buy Gold tour, as it's being billed, will kick off at the House of Blues in Houston, Texas, on March 21. The extensive nationwide tour will see Santigold perform in cities across the country as well as in Canada though the month of April and into May, with a final show scheduled at the Fillmore in Silver Springs, Maryland on May 6. 
For a full list of concert dates and ticket purchase options head here. 
Read more:
A lot has happened for Santigold since the artist released her last studio album, 2012's Master of My Make-Believe, which followed her 2008 debut, self-titled LP. In recent years, the recording artist has also been dabbling in acting. In 2013, she appeared in two TV series, The Office and NTSF:SD:SUV. And considering Santigold is also a new mother, it makes sense that she's slowed her music writing and recording process to a more leisurely clip. 
"I had a baby, and that obviously is a whole other experience and emotional place, and then to come make music right after that experience, I just wanted to have a fun time," the artist said in a Nov. 11 interview with Pitchfork. "I had been working on music, very very slowly. I wrote and recorded 'Outside the War' and 'Run from the Races' while I was nine months pregnant."
Most recently, Santigold released a video for the album's third track, "Chasing Shadows," a reggae-infused ballad that feels as poppy as it does alternative. 
Santigold has also released two other tracks from 99¢ — "Who Be Lovin' Me," which features Atlanta, Georgia's own hip-hop artist ILoveMakonnen, and the album's opening track, "Can't Get Enough of Myself."
Speaking to Pitchfork, the artist revealed a notable fact or two about her upcoming studio effort. For one, she worked with a number of new producers during the 99¢'s creation, which means fan could likely hear a revitalized sound from Santigold on her upcoming record. Also important to the artist's upcoming release is its theme, which will will largely focus on the commoditization of all things, a concept Santigold cleverly mirrors in the album's artwork by shrink wrapping herself in a bag alongside a jumble of products.
"We have no illusion that we don't live in this world where everything is packaged," Santigold said in a press release. "People's lives, persona, everything, is deliberate, and mediated. It can be dark and haunting and tricky, and freak us out, but it can be also be silly and fun and we can learn to play with it."
99¢ track list:
1. "Can't Get Enough of Myself"
2. "Who Be lovin Me"
3. "Chasing Shadows"
4. "Banshee"
5. "Walking In a Circle"
6. "Big Boss Big Time Business"
7. "Rendezvous Girl"
8. "Before The Fire"
9. "All I Got"
10. "Outside the War"
11. "Run The Races"
12. "Who I Thought You Were"