"Someone Like You" and 4 Other Adele Songs to Help Overcome Any Breakup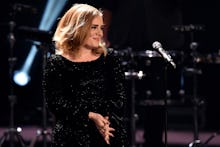 Sascha Steinbach/Getty Images
Few people are better able to translate heartache into a song than British singer Adele. Time and time again, she releases tracks that successfully capture the feelings so many people who've gone through breakups have experienced. 
Adele has found chart-blasting success by often focusing her powerful vocals on the honest and emotional turmoil of love and loss — whether with herself or a partner. Her songs have become synonymous with the catharsis created by broken hearts. "If you regard pop music to be about the relatable, and holding a mirror up to the mundane, euphoric or traumatic events in our everyday lives, Adele could just be the pinnacle of all that," Paul Bridgewater wrote for the Guardian. 
Read more:
"My last record was a break-up record and if I had to label this one, I would call it a make-up record," Adele wrote in a letter to fans in October, regarding her newest album 25, which broke multiple records, according to E! Online. "I'm making up with myself." Adele's 21 album from 2012 spent 232 weeks on the Billboard 200, peaking at No. 1, while 19 peaked at No. 4 of the Billboard 200 in 2012. 
On those albums, she produced songs like the the angry "Set Fire To The Rain" and the solemn "Someone Like You." Still, many of 25's songs, like the emotional "Hello" —  which she has said is about herself — resonated with people and their broken hearts. 
Grab a box of tissues, because is a complete list of the Adele songs to help overcome and sooth the woes of heartbreak. Heartache has never sounded so good. 
1. "Someone Like You"
In "Someone Like You," Adele describes the difficult but relatable one-who-got-away scenario. In the beginning of the song she sings, "I heard that you're settled down/ That you found a girl and you're married now/ I heard that your dreams came true/ Guess she gave you things I didn't give to you/ Old friend, why are you so shy?/ Ain't like you to hold back or hide from the light," according to Genius. 
"When you hear that song, it's the worst kind of emotionally destructive indulgence, like you're rubbing salt into a wound, but you can't stop because the song creates this emotional bridging," Bridgewater wrote for the Guardian.
2. "Rolling in the Deep"
This song is built off of the initial anger and steam from a breakup, with the rumbling beat inspired by Adele's own building heartbeat according to the Independent. Adele wrote the song after "being told that my life was going to be boring and lonely and rubbish, and that I was a weak person if I didn't stay in the relationship. I was very insulted, and wrote that as a sort of 'fuck you,'" the Independent reported. 
The song opens, "There's a fire starting in my heart/ Reaching a fever pitch, and it's bringing me out the dark/ Finally, I can see you crystal clear/ Go ahead and sell me out, and I'll lay your ship [shit] bare/ See how I'll leave with every piece of you/ Don't underestimate the things that I will do/ There's a fire starting in my heart/ Reaching a fever pitch, and it's bringing me out the dark," according to Genius. 
3. "Hello"
25 single "Hello" was history-making, as fans fell in love with the sad and honest lyrics of Adele seemingly addressing a former lover. Although Adele has insisted that the song is about her own personal growth, fans still take liberty on applying it to the disappointment of not being over a fallen relationship. In the chorus, Adele sings, "To tell you I'm sorry, for everything that I've done/ But when I call you never seem to be home/ Hello from the outside/ At least I can say that I've tried/ To tell you I'm sorry, for breaking your heart/ But it don't matter, it clearly doesn't tear you apart anymore," according to Genius. 
4. "Don't You Remember"
"Don't You Remember" is an indulgence for the hopelessly heartbroken. In the slow song, Adele shamelessly and achingly begs for her lover to return, "When was the last time you thought of me?/ Or have you completely erased me from your memory?/ I often think about where I went wrong/ The more I do, the less I know," according to Genius. 
5. "Love in the Dark"
Off of her 25 album, "Love In The Dark" recounts the struggle of letting go of a relationship that has turned bad, possibly even toxic. The lyrics are honest and heartfelt, and she describes how convoluted feelings can be when it comes to ending a relationship. She sings, "You have given me something that I can't live without/ You mustn't underestimate that when you are in doubt/ But I don't want to carry on like everything is fine/ The longer we ignore it all the more that we will fight," according to Genius.