7 Kanye West Tweets That Prove He Has No Filter — and the Internet Loves It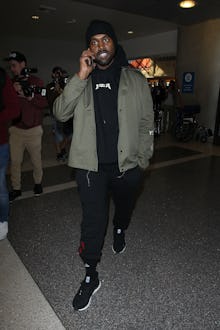 Vantagenews.com/AP
If you haven't been in the Twitterverse lately, Kanye West has been at it again. He and rapper Wiz Khalifa had a heated exchange over the name change of West's upcoming album, Waves. The argument resulted in an intense Twitter tirade directed at Khalifa and West's ex, Amber Rose (Kanye's since deleted most of the tweets, though). Of course, for anyone familiar with West, it's not his first Twitter rodeo. Here's some of his most memorable tweets, both in existence and since deleted. 
Read more:
While West has tweeted a lot of inane remarks over the years, the majority of those has since been deleted by the artist. However, in the digital age, nothing's deleted permanently. According to screenshots by BuzzFeed, West has lamented over the use of fur pillows, the intense responsibility of receiving a water, the emotional effect of fonts and his decision-making in bike stores in year's past. 
In honor of West's Twitter prowess, Jimmy Kimmel — with the help of Josh Groban — also recited some of his best tweets on Jimmy Kimmel Live! in 2011. 
Additionally, Time selected a handful of their favorite now-deleted Kanye tweets, including his feelings on taxes, the complexities of do not disturb buttons on planes, his favorite unit of measurement and his notoriously impressive leather pants collection. 
Thankfully, he's still left up some clever, wide-ranging tweets, and here's to hoping they won't be deleted anytime soon:
If that's not satisfying enough, a Tumblr user has created illustrations of his favorite Kanye tweets, and updates it accordingly. Whether it's vintage Kanye — or whatever's in store for the future — the Internet, as always, is at your service.