Adnan Syed from 'Serial' Will Be Back in Court on Wednesday — Will He Get a New Trial?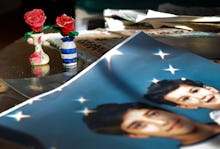 Patrick Semansky/AP
Adnan Syed, whose story was made famous by the first season of the popular true crime podcast Serial, will be back in court this week for a hearing that could potentially lead to a retrial for 35-year-old Syed, the Baltimore Sun reported. 
In 2000, Syed was sentenced to life in prison for the 1999 murder of his ex-girlfriend, Hae Min Lee. Syed is scheduled to appear in a Baltimore court on Wednesday as part of a three-day appeal hearing, during which Judge Martin P. Welch will hear statements related to the reliability of cell-phone tower evidence used by the prosecution to place Syed near the crime scene, according to the Sun. 
Read more:
Over the course of the Serial's 12 episodes, host Sarah Koenig examined some of the elements of the trial that called Syed's "guilty" verdict into question for many listeners, like the news that Syed's classmate, Asia McClain, claimed seen him on the day of the murder. 
In 2015, McClain signed an affidavit saying that she saw Syed at the library during the time the murder was believed to have taken place, and her testimony may play a role in Syed's case moving forward.
At the conclusion of the upcoming hearing, friends and family of Syed, many of whom have long advocated his innocence, will finally know whether Syed is getting a retrial.
Correction: March 8, 2016