Best Spotify Playlists to Work to That Will Help You Focus and Get the Job Done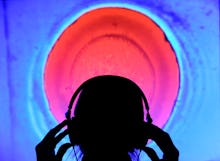 Jens Meyer/AP
It's long been suspected that music can help boost concentration and improve a person's focus and mood, and a 2014 study published in Scientific Reports proves that's entirely the case. The study, titled "Network Science and the Effects of Music Preference on Functional Brain Connectivity: From Beethoven to Eminem," found listeners who heard songs they liked were more attuned to internally-focused thoughts. However, though listening to music can help boost a person's ability to focus, the one perhaps fairly obvious caveat is that the music has to be appealing to the listener in order to spark a positive cerebral response, and not the inverse. 
"Using network science methods, we evaluated differences in functional brain connectivity when individuals listened to complete songs," reads the study, "We show that a circuit important for internally-focused thoughts, known as the default mode network, was most connected when listening to preferred music."
Read more: 
What's more, a myriad of studies have shown music's power to positively affect the human mind, boosting everything from motivation, to mood and libido, and even improving a person's health.
With that in mind, we've compiled a roundup of some of the best playlists Spotify got to offer if the aim is heightened focus. Yet given the findings on the importance of preference, selecting a playlist herewithin that largely sticks to a preferred genre will likely be the most encouraging option for a productive work session.
Seriously ambient 
For those who are easily distracted by words and lyrics, here's a playlist called "Deep Focus." Ambient and gentle, it features bands like Lowercase Noises, Seas of Years, Random Forest and Explosions in the Sky.
Classic classical 
Sometimes, all we really need to hear to feel brilliant is Ludwig van Beethoven.
Melodic electronica
If classical music isn't quite the right speed, this playlist is 100% committed to quiet electronica (emphasis on the quiet, listeners hoping for EDM here should keep moving). 
Upbeat hip hop 
This playlist delves into the hip hop arena, though never hits on anything too percussively obtrusive. Staple artists on this list include Nas, J Dilla, Talib Kweli, Mos Def and Flying Lotus 
Music to study to
This playlist, which has a running time of nearly eight and a half hours, is clearly encouraging for students looking to go the distance. A nice mix of artists, some notable additions to Spotify's "Study Vibes" playlist include Chet Faker, Calvis Harris, Jamie XX, Odesza, Björk, Ratatat, Pretty Lights and Deadmau5.
Adult contemporary indie rock
Not a far cry from "Deep Focus," this playlist is calming without foregoing all vocalization. The playlist features bands like The Sea and Cake, Mogqai, Do Make Say Think and Explosions in the Sky.
Calming jazz
This list, which pulls together some of the greats, among them Eric Reed, Freddie Hubbard, Johnny Hodges and Clifford Brown, is guaranteed to lull listeners into a meditative state of mind. 
Ambient experimentalism
This Spotify list, titled "Think Tank" lives somewhere in between harder-edged indie rock, soft pop and electronica. To qualify that a bit more, some of the playlist's artist include. Blue Hawaii, Bear in Heaven, Sigur Rós, Air France and Jungle. 
This one's for the indie folk lovers
Featuring artists like Fleet Foxes, Sufjan Stevens, BiBio, Andrew Bird, Matt Costa and Kishi Bashi, this roundup of calming folk rock ballads is a winning compilation.