This Tennessee Official's Sexist Response to a Reporter Has to Be Seen to Be Believed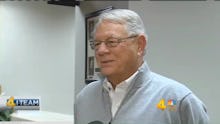 The Republican official in charge of running elections in metro Nashville, Davidson County Election Commission Chairman Ron Buchanan, is now the former chairman after he told a female reporter she was "exactly the bitch I thought you would be."
The chairman was being interviewed by WSMV reporter Alanna Autler regarding questionable purchases made on a government credit card by Davidson County Election Commission staffers. In its investigation, WSMV determined that Buchanan and Election Administrator Kent Wall expensed a $123 tab at the upscale restaurant Sperry's, while Wall reportedly spent over $900 on office decor.
At the same time, WSMV reported, the election commission was cutting early voting sites, citing budget issues.
When Autler attempted to interview Buchanan on camera, the official appeared to become increasingly indignant with each new question.
Source: WSMV
"Is it acceptable that you went to a restaurant such as Sperry's for something that was Davidson County Election Commission business?" Autler asks Buchanan in the report.
"That charge was for a business meeting to discuss the budget," he responds, calling it "a very legitimate purchase."
"Could you have gone to another restaurant that perhaps was not as expensive?" Autler presses.
"That's it," Buchanan says.
Autler asks him if he could explain a $614 picture frame.
"That's it," he repeats.
"That's it?" Autler asks.
And then, from Buchanan, came the haymaker, "That's exactly the bitch I thought you would be."
After the incident, Buchanan told the Tennesseean he was not apologetic. "I said it. I meant it. I still mean it," he said. "That was the one word that I could think of that accurately conveyed what I was thinking at that time."
"I should not have used that terminology," he continued, "but as the media has the freedom of press, individuals have the freedom of speech. And I can tell her what I think about her. And I did that, and I don't apologize for it."
Unfortunately for Buchanan, freedom of speech may be an inalienable right but the Constitution makes no mention of freedom from consequence. Buchanan resigned from the Tennessee Division of Elections in advance of the report's broadcast on Monday.
h/t Jezebel