This College Wants to Censor Martin Luther King's "I Have a Dream" Speech — Here's Why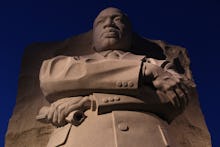 A group of students at the University of Oregon in Eugene are calling for the removal of a line from Dr. Martin Luther King Jr.'s "I Have a Dream" speech currently painted on a wall in the school's Erb Memorial Union. 
It's a line you're probably familiar with, "I have a dream that my four little children will one day live in a nation where they will not be judged by the color of their skin, but by the content of their character."
King's message, they said, no longer applies. The speech's singular focus on racial diversity and not, say, issues of gay rights or feminism makes it noninclusive.
"Diversity is so much more than race," Mia Ashley, a sophomore architecture major, told the Daily Emerald. "Obviously race still plays a big role. But there are people who identify differently in gender and all sorts of things like that." 
The quote replaced another quote by a former dean emeritus, William C. Jones, which read, "Established by an enlightened state for service and inspiration. Reverent before its heritage of principle and institution. Eager in its adventure with idea and deed. Guardian of the noble in man's aspiration for the humane society. Leader in the quest for the good life for all men."
Perhaps setting a precedent for the latest controversy, in 1987 the Jones passage too was ruled problematic and removed after students objected to its singular reference to men and not humankind.
Lately college students across the country have made news for taking similar stands.
In December students at Lebanon Valley College in Pennsylvania demanded that a hall named for former college president Clyde A. Lynch be renamed because of the inadvertent racial association of his surname. That same month students at Oberlin College in Ohio accused dining halls of culturally appropriation and insensitivity in its offerings. Students from school's the black student union said there was not enough multicultural food on campus, the New York Times reported.   
For now, King's words aren't going anywhere; the student union considered the request and decided against it. But the student union director, Laurie Woodward, told the Emerald that the outcome is less important than the renewed interest in this kind of debate. 
"What words are is important," Woodward said, "but what's more important is that people think about what the words should be."