5 Missy Elliott Songs That Prove She's the Queen of Hip-Hop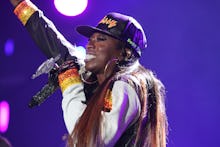 Donald Traill/AP
Hip-hop legend Missy Elliott made waves in 2015, shutting down the Super Bowl halftime performance with singer Katy Perry and collaborating with rapper Pharrell Williams for her first single in years, "WTF (Where They From)." The Virginia native is heading into 2016 full speed ahead, and this has some wondering if fans can expect a new project from Elliott. 
"It's coming," longtime collaborator and producer Timbaland told Rolling Stone in 2014. "It's on her. She got the first single, it's just a matter of when she wants to do it. We got the hollow-tip bullet in the gun. We have the game-changer right there." 
Read more:
Elliott appeared to confirm the new album to Billboard in November. "I want to say 2016 but I don't want to give a time," Elliott told Billboard. "Nowadays you say a time, they'll stone you." Elliott had made plans to release a new album in 2008, but the project was scrapped, Billboard reported. Her last solo album, The Cookbook, was released in 2005.
On Monday, Elliott took to Twitter to reminisce on her halftime performance from last year. "1 year later on this day I was @ the Super Bowl performing," she tweeted. "I'm still humbled. Thank u." 
While we wait for new music, here are five of Missy's best songs to remind you why she's so great.
"The Rain (Supa Dupa Fly)"
Misdemeanor started her legendary career with this track from her debut album Supa Dupa Fly in 1997. She teamed up with Timbaland and the song became one of VH1's 100 Greatest Songs of the '90s. "The Rain (Supa Dupa Fly)," Elliott's first single and music video, featured the entertainer in a large trash bag-esque outfit. Missy's reason for wearing the trash bag was a middle finger to all of the critics who said she was too fat to be successful in the music industry, according to the Guardian.
"Lose Control"
Missy's 2005 hit "Lose Control," the first single from The Cookbook, featured singer Ciara and hype-man Fatman Scoop. The track peaked at No. 3 on the Billboard Hot 100 list in the U.S., and was top of the charts in several countries. 
"Everybody here get it out of control," Missy raps over the beat, telling listeners to dance. "Get your backs off the wall, cause Misdemeanor said so." The music video was nominated for several MTV Video Music Awards, winning best hip-hop video and best dance video. 
"Get Ur Freak On"
Missy teamed up with Timbaland to produce this track on her third studio album Miss E... So Addictive in 2001. Known for its Bhangra influence, a style of music and dance from India, the hit track peaked at No. 7 on the Billboard Hot 100 list. 
"Missy be puttin' it down, I'm the hottest 'round," the rapper says over the fast paced track. "I told y'all motherfucker, y'all can't stop me now." The track helped propel Missy's third studio album to platinum.
"Work It"
This 2002 hit was another collaborative effort from Misdemeanor and Timbaland, on her studio album Under Construction. The song was ranked number 25 on Rolling Stone's 100 Best Songs of the 2000s.
"Is it worth it, let me work it," Missy raps. "I put my thing down, flip it and reverse it." The song is best known for playing the lyrics on the chorus backwards, "I put my thing down, flip it and reverse", twice. "Work It" made it to No. 1 on the Billboard charts, making the track one of Elliott's most well-received songs.
"Hot Boyz"
The 1999 track "Hot Boyz" was the biggest hit from Missy Elliott's Da Real World album, and the remix of the song which features rappers Eve, Nas and Q-Tip, was at the top of the charts for six weeks in 2000. "Hot boyz, baby you got what I want," Missy rapped over the chorus of the song. "See cause y'all be driving' Jaguars and the Bentleys and the Rolls Royce."