6 of the Best Underground Rappers and Hip-Hop Artists You Wish You Knew Sooner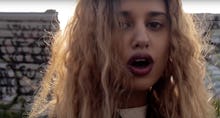 YouTube
Hip-hop is a genre built on stamina, breaking down walls and defying expectations. In 2015, hip-hop dominated pop culture — just take the Fox TV show Empire, the musical Hamilton, the biopic Straight Outta Compton or the fact that Kendrick Lamar has the most Grammy nods of the year. 
But making it in the rap game is also harder than ever. Platforms like SoundCloud, YouTube and Twitter are a double-edged sword, giving more access to listeners, but also further saturating the industry. "The way that we are doing it couldn't have happened in the '90s because the kids didn't have an internet like today, and couldn't really build a movement except out on the streets before getting signed," legendary hip-hop producer Jermaine Dupri told Forbes.
Read more:
But fresh talent is always in demand. From a fast-talking raptress who could rival Nicki Minaj to an Atlanta rapper with a brightly dyed beard, here are six underground hip-hop artists who should be on your radar:
1. Daye Jack
New York University programming student Daye Jack is in the beginning of his rap career, but it's taking off with notable speed, the Village Voice reported. In his songs, Daye Jack rap-sings over experimental electronic beats. In 2014, he released his first mixtape aptly titled Hello World over SoundCloud and the next year he released his follow-up project and LP Soul Glitch, Pigeons and Planes reported. 
"Things like that—my fascination with computers and the idea of electronics push my music towards that at times and allow it to live in that area," he told Pigeons and Planes. He most recently released a powerful collaboration with fellow rapper Killer Mike about the Black Lives Matter Protest, which is called "Hands Up." 
2. Rome Fortune
One look at Rome Fortune's teal-colored beard and it's obvious he's out to do something different in the hip-hop world — and his rise to fame (he's already collaborated with Bassnectar and Four Tet) proves it. In October, he signed onto Fool's Gold and announced a small tour, Fader reported. In 2014, he told Fact magazine he had trouble signing a record deal because too many labels wanted to restrict or didn't understand his style. His beats are as important as his lyrics, usually dark, sexy and almost insidious. 
3. Pell
Source: Soundcloud
Hailing from New Orleans, Pell — whose real name Jared Pellerin — is the latest in the rap sub-genre "dream rap," which consists of rhythmic singing over dreamy beats, Vulture reported. Pell got his start producing beats rather than rapping, and it shows in his futuristic sound.  
"I'm influenced by jazz and a lot of indie rock bands, so I felt as though it was natural for me to sing on tracks because that's where I feel I'm best received," Pell told Okayplayer. "Everybody can rap. Everybody does rap. But not everyone sings and/or can show true emotion through their vocals." His first major project, Floating While Dreaming, came out in 2014, according to Complex. He followed that up last year with LIMBO, which delivered on his signature ambient melodies, Pigeons and Planes reported. 
4. Tommy Genesis
Vancouver, Canada, native Tommy Genesis recently signed with Awful Records, which consists of Atlanta-based group of hip-hop artists, after rapper Father found her music on the Internet, Paper Magazine reported. Tommy Genesis got her start in art school, where she would do performance art in the form of rap-like poetry readings. This experience is evident in her sometimes "weird and abstract" music. She describes her music as "dark sometimes, kinda like you're having a bad dream but you're with your dream girl so it doesn't really matter," according to Vice. She dropped her debut album World Vision last summer, in which she actually self-produced some of the tracks, according to Complex. She works as fast as she raps her clever lyrics, getting ready to drop her sophomore LP World Vision 2 in March. 
5. Boogie
The scratchy-voiced Boogie — born Anthony Dixson — mixes rap and EDM with his songs. His manager Clayton Blaha is also the co-founder of Skrillex's OWSLA label, and even earned a Twitter shout out from the DJ himself, Billboard reported. His honest lyrics are his style, "I just, my formula is I'm going to show my flaws and my insecurities, and hopefully people learn from them," he told the Los Angeles Times. "I'm not going to try to hide them."
6. Jay Boogie
Source: Soundcloud
Born Joel Rayos, Jay Boogie represents both the New York and LGBTQ rap scene. Often calling R&B singer Lauryn Hill an influence, Boogie released his debut album Allure and a mixtape My H.O.E., according to Fader. "I realized I was speaking for so many more [people] than I ever bargained for," he told Paper magazine in February 2015. His songs are prideful and confident, and he sets to break down hip-hop barriers by blurring genres.