20 Years After Failing With Virtual Reality, Nintendo Might Bring It Back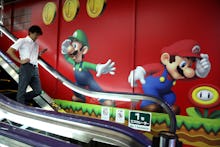 Twenty years ago, Nintendo launched Virtual Boy, a bright-red video game console that was one of the first attempts at a commercial virtual reality platform. Though Nintendo was excited by the innovative move, consumers weren't: As Fast Company detailed in December, Virtual Boy sold only 770,000 units globally — an abysmal showing for the gaming giant, whose other consoles had sold tens of millions of copies.
Yet Nintendo may be dipping its toe back into the virtual reality pool. According to a report in the Financial Times, Nintendo president Tatsumi Kimishima said on Tuesday that VR was an "interesting technology" and that the company was looking into it. 
The comments came following an earnings call in which the company reported a 36% fall in profits for the third quarter. 
On one hand, Kimishima's remarks were unsurprising given the state of virtual reality today. It's made leaps and bounds in popularity since the time of Virtual Boy and plenty of companies, including Facebook, Samsung and Google, are getting in on the action. 
On the other hand, Nintendo employees and executives have previously been vocal about their distaste for the futuristic technology. Longtime designer Shigeru Miyamoto told NPR in June that the company doesn't believe it's "a good fit for [our] philosophy," though he added, "we experiment with virtual reality and different technologies [and] we're quite interested in it."
Meanwhile, Nintendo of America President Reggie Fils-Aime told Polygon in June during the Electronics Entertainment Expo that though the company has "been experimenting with this for a long, long time," its dearth of "fun" and "social" components are holding it back. 
"I haven't walked the floor, so I can't say in terms of what's on the floor today, but at least based on what I've seen to date, it's not fun, and it's not social," he added. "It's just tech."
As the Verge pointed out, Nintendo has reason to be wary. Their first attempt was "a significant failure, with consumers turned off by the console's high price, monochrome display, and its tendency to cause headaches and nausea."
Yet if it's "social" and "fun" they're after, consumers may be in for a pleasant surprise. After all, why wouldn't you want to share your favorite pornography with all your friends?
h/t The Verge