How to Watch 'The People v. OJ Simpson: American Crime Story' Online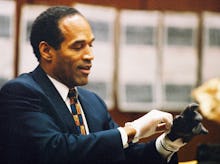 Lee Celano/Getty Images
After months of anticipation, Ryan Murphy's first installment of American Crime Story will debut tonight on FX at 10 p.m. Eastern. The inaugural season — The People v. O.J. Simpson: American Crime Story — will focus on the controversial and highly publicized trial of former NFL running back and occasional actor O.J. Simpson over the murder of his ex-wife, Nicole Brown Simpson, and her friend, Ron Goldman. 
For viewers who look to watch the show online, it will be available to stream on the subscription-only FXNOW. 
Read more:
According to IMDb, the first season will consist of 10 episodes and stars Cuba Gooding Jr. as O.J. Simpson, and David Schwimmer and John Travolta as two of Simpson's lawyers, Robert Kardashian and Robert Shapiro. 
Check out the first look at The People v. O.J. Simpson: American Crime Story below: