Who's Singing the National Anthem at the Super Bowl? NFL Announces Who Will Have the Honor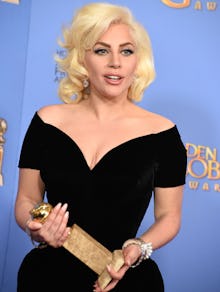 Steve Granitz/Getty Images
Fans are gearing up for an epic Super Bowl 50, and one more pop star will now be joining the line-up for the big game: The NFL announced on Tuesday that Lady Gaga will have the honor of singing the national anthem before kickoff, the Associated Press reported. Actress Marlee Matlin will simultaneously perform the national anthem in American Sign Language.
Read more:
The upcoming Super Bowl game, a match-up between the Denver Broncos and the Carolina Panthers, will feature halftime show performances from Coldplay and Beyoncé, who has previously performed during a Super Bowl halftime.
The announcement is yet another notch in Gaga's belt: It was announced this week that the singer will also perform a tribute to the late David Bowie at this month's Grammy Awards.
Lady Gaga joins a long list of noteworthy stars who have had the honor of singing the national anthem at the year's biggest football game, but, try as Gaga might, Whitney Houston's rendition at the 1991 Super Bowl is still the best ever.