"Something New" Lyrics: Zendaya and Chris Brown Sample TLC in New Song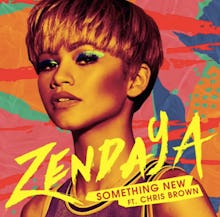 Mic/Instagram
Zendaya samples former girl band TLC's "Creep" and features Chris Brown in her latest bop co-produced by hitmaker Babyface. "Something New" was released across international radio stations over the course of Tuesday night, and will be released on iTunes and streaming services Friday. 
"I know y'all been waiting for something new," Zendaya tweeted Tuesday before the song was released online and the radio, followed by the hashtags #SeeWhatIDidThere, #SomethingNew and #Friday. Clever, Zendaya, real clever. The song can be heard on DopeFile. 
Read more: 
Just like the girls in TLC, Zendaya is on the quest for some no-strings love in "Something New," singing about the temptations to have a one night love affair. Below are some of the lyrics:
"Don't know your name, but I guess I really don't care/ I probably should wait, but I wanna let you go there/ I wanna try something new, all night/ I wanna try something new all night/ I wanna try something!/ By the way you looking tonight/ Only one thing comes to my mind/ When the lights come on at 2/ I'll still be moving with you/ Boy you're looking at nobody/ Just my body."
Chris Brown jumps on the track in the second half of the song, also trying to convince Zendaya to cave into her temptations and go with the flow of the sexually charged night:
"Know what you doing tonight/ I see that look in your eyes/ I feel the same, yeah yeah/ Miss your lips girl when we kiss/ Why don't we handle this/ Girl you know I need some affection."
It's an easy radio bop for both artists: As Chris Brown promotes his seventh studio album Royalty, which reached the top of iTunes' R&B/hip-hop charts in early December, Zendaya is preparing to release her sophomore studio album. While "Something New" isn't an immediate classic like "Creep," it is an upbeat jam with a catchy hook, and will be a sure hit at clubs across the nation for the next few months. 
Meanwhile, Zendaya's fans were living for new music across social media after the release of "Something New":