Yet Another Professor Resigns Following Student Reports of Sexual Harassment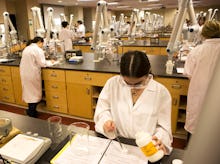 One might assume that after decades of activism targeting and opposing it, sexual harassment would be a thing of the past. But a recent series of sexual harassment cases waged against college professors in STEM fields proves this is hardly the case. It is a harsh reality demonstrated by the case of Jason Lieb, a molecular biologist and professor who recently resigned from the University of Chicago amid such allegations.
The case: Lieb resigned in January after the University of Chicago's assistant provost and director of the office for equal opportunity programs suggested Lieb should be fired for making unwanted sexual advances to multiple female students and allegedly having sex with an incapacitated, nonconsenting student, the New York Times reported Tuesday. 
Although the academic community supported this recommendation and resignation, some noted that Lieb should never have been hired at all due to anonymous warnings that he had faced similar allegations of sexual harassment at previous academic jobs, according to the Times. That the university's efforts to learn more about the allegations "proved fruitless," as the Times put it, points to a bigger problem in the hiring process, according to some, such as, perhaps most notably, California Rep Jackie Speier. 
In fact, Speier recently told Wired that she plans to craft and promote legislation that would require any information produced by an investigation that resulted in a professor resigning or being fired to follow that professor throughout their career. It's "unacceptable that out of fear women who are sexually harassed and assaulted are unwilling to come forward," Speier told Wired. "Students go to college to study and advance professionally in academia. They do not go to college to be sexually harassed."
Lieb's not alone: Lieb joins a growing list of professors forced to resign regarding allegations of sexual harassment in recent months. In January, California Institute of Technology astrophysicist Christian Ott and University of Wyoming's Timothy Frederick Slater were determined to have violated school harassment policies by their employers, but both faced minimal consequences, according to the Washington Post. While Ott was denied a year's salary and banned from campus, according to Science magazine, Slater remained employed for four years after the investigation and mandatory "training to improve his behavior," the Washington Post reported. 
In October, another highly regarded astronomer at the University of California at Berkeley, Geoff Marcy, was found responsible for sexually harassing students, BuzzFeed reported. Although he was ultimately forced to resign amid backlash, he initially received only a warning, according to the report.
A bigger problem: These incidents point to the broader issue of persistent sexism and gender bias in STEM fields more generally. Not only are women in the field routinely harassed — one 2014 study showed a whopping two-thirds of women working in science, technology and engineering experience sexual harassment, according to the Daily Beast — but are also notably underrepresented. Women represent only 27.9% of environmental scientists and geoscientists and 15.6% of chemical engineers, according to a National Girls Collaborate Project. Women make up only one-quarter of senior faculty jobs in academic science departments, according to the National Science Foundation, and a 2012 study demonstrated an unconscious gender bias in job candidate evaluation in the field. One 2015 study incredibly found that 100% of women of color face bias in the field.
These numbers, US News & World Report noted in 2015, have remained stagnant for over a decade. And it's apparent in higher education, too. Women earned less than 20% of bachelor's degrees in computer sciences, engineering, physics, and mathematics and statistics in 2011 — figures that decline further for minority women in 2012, according to the same report.
Women's representation in STEM fields is not just a matter of parity, either, but a potential key to women's broader economic success: Women in STEM earn about a third more than their female peers in other fields and have smaller wage gaps relative to men, according to a U.S. Department of Commerce report.
But no matter in academia or the professional world beyond it, success is simply inaccessible should women fear for their dignity or safety. As Mashable reported Speier succinctly stated in response to Slater's case, "Students enter astronomy to study the stars, not their professor's sex life."
h/t the New York Times