'The People v. OJ Simpson' Reveals Why Media Became Obsessed With Kim Kardashian's Family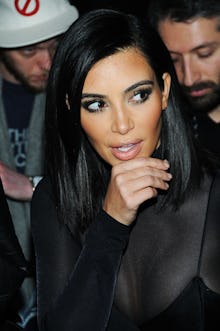 Desiree Navarro/Getty Images
The premiere episode of The People v. O.J. Simpson: American Crime Story aired on Tuesday evening, depicting the 1995 trial of former NFL player O.J. Simpson for the murder of his ex-wife Nicole Brown Simpson and her friend Ronald Goldman. In the end of the first episode, a sleeping Simpson (played by Cuba Gooding Jr.) wakes to his arrest warrant and subsequently threatens suicide inside lawyer and friend Robert Kardashian's Encino, California, home — in a 13-year-old Kim Kardashian's bedroom.
Read more:
The trial conquered every corner of the news, and subsequently rocketed the Kardashian clan into the public eye. The climactic scene — in which Robert Kardashian (played by David Schwimmer) begs Simpson, "O.J., please don't kill yourself in Kimmy's bedroom!" — is the perfectly poetic bridge between a public figure of the past and one in the present, and shows how fascinated people and the media were and continue to be with their lives. 
For the most part, the scene is accurate, according to Lawrence Schiller's American Tragedy: The Uncensored Story of the O.J. Simpson Defense, which is a 1996 book that documented the case, according to ABC. Schiller told ABC Simpson was preparing himself for suicide, recording himself saying, "Please remember me as a good guy. Don't remember me as one of the negatives that might end up here. Please, please, please, please leave my kids at peace. I love everybody." Moments later, Robert Kardashian found Simpson with a gun and pictures of Brown Simpson and his children. 
Kim Kardashian wasn't at the residence at the time, according to Vanity Fair. It was also Robert Kardashian who read a letter from Simpson to the media when he failed to turn himself into authorities on the day of the infamous white Bronco car chase. 
Production designer Jeffrey Mossa told Vanity Fair that the crew was able to use the actual house to film some scenes for the show. The crew used information from a Barbara Walters interview with Robert Kardashian to copy elements of Kim Kardashian's bedroom, such as a lamp in the shape of a rabbit, posters and her bedspread. 
Kim Kardashian has said that she "definitely took my dad's side," according to the Mirror. The Brown Simpsons and the Kardashians were close, often vacationing together.