Rihanna's 'Anti' Reviews: Here's What the Critics Have Said so Far About the Latest Album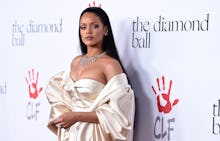 Jordan Strauss/AP
Rihanna finally dropped her eighth studio album Anti last week after hyping it up for what felt like all eternity. Just like the album's vibes, critics' reviews are all over the place. Some praised Anti, arguing that the album's versatility represents RiRi's coming of age, while others rated it mediocre, essentially crediting the versatility to confusion and laziness instead.
"Anti is a chaotic and scattershot album, not the product of a committed artistic vision, or even an appealingly freeform aesthetic, but rather an amalgam of approaches, tones, styles and moods," New York Times critic Joe Caramanica wrote in his review, an opinion several other critics echoed. Yet some critics argued that the album, a mix of ballads, downtempo grooves and other unfamiliar RiRi sounds, is good, just not what we were expecting. 
Read more:
Vibe's Jessica McKinney argued that Anti is still a "badass" record. Not the kind of "twerking on yachts" badass we'd expect from the infamous good girl gone bad, but her most "advanced" album yet. "It's by far one of her most advanced albums in terms of vocals and sounds, though," McKinney wrote. "One minute she's getting lost in neo-soul flows with SZA in 'Consideration,' the next she's giving major pipes over a wave of an orchestra on 'Love on the Brain.' It's a roller coaster of experimentation with high and low notes, country, guitar strings and retro beats."
Yet Caramanica saw the "experimentation" with different sounds and genres as "naif" and unoriginal. "Depending on the moment, she is an electric vocalist or an indifferent one, an emotional savant or a naif, a singer who understands what her voice is best at and one who sounds like she's merely following directions," he wrote. 
Rolling Stone's Brittany Spanos praised the "sprawling masterpiece of psychedelic soul" as Rihanna's official transition chart-topping singles artist to a true "album artist." Furthermore, she essentially said the album embodies Rihanna perfectly. "Every song sounds like our collective fantasy of Rihanna," she wrote. "A carefree island girl lounging in a cloud of smoke, asserting a brand of independence that's wholly her own."
The Guardian's Kitty Empire was with Caramanica in rating Anti as tepid, but she admitted Rihanna's vocals killed. "But ironically, she actually sings the hell out of this record," Empire wrote at the end of her review after labeling it anticlimactic. "If only more of these songs could actually carry the weight of Rihanna's bid for freedom – a bid that is, ultimately, half-baked."