Yahoo Was Just Accused of Reverse Sexism in a Lawsuit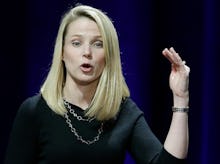 After former Reddit CEO Ellen Pao's gender discrimination suit against venture capital firm Kleiner Perkins Caufield and Byers reached peak media fervor last year, a number of gender discrimination and sexual harassment claims have popped up against Google, Twitter and Facebook. But now, amid a growing movement to awaken Silicon Valley to its unconscious biases, a new lawsuit is accusing Yahoo of reverse discrimination against men. 
The case: Former Yahoo editorial director Gregory Anderson, who was fired in November 2014, is arguing that men were intentionally discriminated against within Yahoo's editorial section. 
According to the lawsuit, Anderson was on leave to attend an editorial fellowship when he was fired from Yahoo. He alleges that Megan Liberman, Yahoo News' editor in chief, told him "that he was among the lowest ... 5% of Yahoo's employees, all of whom were being similarly terminated at substantially the same time." Prior to his dismissal, Anderson attests he had received nothing but positive affirmations of his work at Yahoo, including a "promotion, raise and compliments, along with other indications that his performance was fully satisfactory," according to the suit. 
Despite his performance, Anderson alleges, he was "terminated ... because of his gender."
Employee ratings: At the center of Anderson's complaint is Yahoo's controversial performance review and ranking system. In the suit, Anderson illustrates that employees were given a ranking between zero and five based on their performance as related to their peers. Furthermore, according to the suit, managers were required to place a given percentage of employees in one of five buckets: "greatly exceeds," "exceeds," "achieves," "occasionally misses" and "misses."
After employees' scores were entered into Yahoo's system, a higher-level manager — one who may not have been in regular contact with the ranked employees — "calibrated" the rankings, sometimes moving employees up or down. A low ranking (zero or one) could lead to immediate termination, according to the suit. 
Anderson's complaint illustrates a system vulnerable to discriminatory behavior and subjective ranking. According to the document, when he asked for evidence of his poorly rated work, he was refused.
Yahoo's quarterly performance reviews were a mechanism put in place by CEO Marissa Mayer to curb Yahoo's workforce and keep the company competitive. But in practice, the style of the reviews have been known to make Yahoo managers uncomfortable. In an article for the since discontinued Wall Street Journal blog All Things D in 2013, reporter Kara Swisher wrote that certain employees of the company felt they had to misclassify the work of their staff members in order to meet Mayer's goals for the quarter.
Yahoo isn't the only tech company suffering from lawsuits related to the way staff members are evaluated and let go. Microsoft is currently facing a class-action lawsuit that accuses the company's stack ranking, a system of performance review similar to Mayer's, of disproportionately serving low scores to women in technical positions.
Alleged gender discrimination: Like Microsoft, Anderson's lawsuit says that gender discrimination played a role in his firing, and that the department, led by two women, favored the hiring of more women. 
Women make up 37% of Yahoo's total employee base, while only 24% of the company's leaders are female. 
In general, the tech industry, Yahoo included, is known for its dearth of women. A number of Silicon Valley giants have launched campaigns to both diversify their workforces and promote a more inclusive culture in their offices. Yahoo is also trying to diversify its staff. In its 2015 workplace diversity report, the company stated it's "working hard to make Yahoo reflect the diversity of the world around us."
Actions taken to diversify could be viewed as reverse discrimination by employees. A recent study notes that efforts to bring in people with more diverse backgrounds can lead to backlash. For instance, employees working at companies with affirmative action policies are sometimes viewed as not being prepared for the job or even unfriendly, according to the Wall Street Journal. 
Even without potential employee backlash, the tech industry is having a hard enough time making its workforce more diverse. Since Facebook released its first diversity report in 2014, the company has only been able to make small, incremental changes to the composition of its staff, likely in part due to its size. 
But if Anderson wins his suit, that could have far-reaching implications for a tech industry trying to meet diversity goals. 
What could happen if Anderson wins? "I think that if the individual were to win the case, people would pay a lot of attention and it would cause issues with the people who are trying to do good work around diversity," Alaina Percival, CEO of Women Who Code, told Mic. 
But Percival also notes that much of the effort around diversity in tech is about getting more women and racial minorities into technical positions. Anderson isn't an engineer or programmer; he's an editor. So though the lawsuit deals with a major tech company, it actually focuses on a media department, which isn't really within the debate surrounding expanding opportunities in science, technology, engineering and mathematics.  
Additionally, Percival tells Mic, because creating a welcoming culture in which candidates of diverse backgrounds can thrive and injecting new diverse hires into a company's workforce can be a slow-moving process, she doesn't expect to see a lot of reverse discrimination lawsuits. "Reverse discrimination isn't coming up much," she said of the people and institutions she works with. 
Though helping to bring in a more diverse range of people into the tech ecosystem is an important issue to tackle, it's not a problem that can be resolved with a "move fast and break things" mentality. "I think what's important is thinking of having good diversity practices as long-term strategies," Percival told Mic. "I think a lot of companies might feel like it needs to happen immediately, but the reality is, for a company the size of Google or Facebook, it isn't going to happen immediately."
So does Anderson's case have a chance? There's still a possibility that Anderson could win a reverse discrimination lawsuit. While some have argued recently that "reverse discrimination" is a myth, it's very much real — legally speaking, of course.
People have won reverse discrimination suits in the past, and they can win them in the future. Just two years ago, a white teacher in Prince Georges County, Maryland, won a reverse discrimination suit against the school that fired him. So did Andrew Hardwick, a police officer in Freeport, New York.  
But these suits are difficult to win. What that means for Anderson is that he will have to prove that gender discrimination was to blame for his removal — and not just Yahoo's system of curbing talent.