Here's Why President Obama Is Visiting a Mosque for the First Time in His Presidency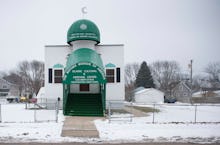 You might think that, seven years into his presidency, President Barack Obama doesn't do anything new or exciting. Well, Obama will check "visit a U.S. mosque" off his list of presidential to-dos for the first time Wednesday morning.
Continuing his recent string of anti-Islamophobia speeches, Obama will visit the Islamic Society of Baltimore to address the threats and bias Muslim communities face, USA Today reports. The Islamic Society offers Baltimore Muslims and non-Muslims a variety of services, including a K-12 school. 
According to USA Today, Obama will focus on unity and speak out against Islamophobia. 
"For some time, we've been asking for pushback," Ibrahim Hooper, a spokesman for the Council on American-Islamic Relations, told USA Today. "Perhaps this will start a trend," 
For at least one scholar, Obama may have waited a bit too long. Akbar Ahmed, a scholar of Islamic studies at American University, told USA Today that Obama "left it literally to the last" to visit an American mosque, but "better late than never." 
"The president going there means he hasn't forgotten us," Ahmed said.
Mosques in the United States and abroad have faced a growing number of vandalizations. 2015 was the worst year on record for mosque attacks. 
In December, Mic reported that several mosques found severed pigs heads lodged in toilets or on their premises. A mosque in Philadelphia and one in West Australia reported incidents, followed by a school in the United Kingdom that found a pig's head in a toilet. The FBI investigated a fire at a mosque in Coachella Valley, California, and on Christmas Day, a Houston mosque burst into flames. Las Vegas mosque-goers found bacon wrapped around the door handles of their mosque's front door, as well. 
Tension around mosque vandalism was so high that one Alabama mosque called the police when a well-wisher left a tin of Christmas cookies on a mosque's front steps. 
"I don't think there's ever been this level of fear and apprehension in the Muslim American community," Hooper told USA Today. 
Republican presidential candidates such as Sen. Ted Cruz and business mogul Donald Trump have been some of the most vocal anti-Muslim candidates of the 2016 race, warning against "radical Islamic terrorism," often at the expense of ignoring other forms of terrorism. 
In his final State of the Union address, Obama specifically talked about the anti-Islamic rhetoric of several 2016 Republican presidential candidates. 
"We need to reject any politics that targets people because of race or religion," Obama said. "This is not a matter of political correctness. This is a matter of understanding just what it is that makes us strong. The world respects us not just for our arsenal — it respects us for our diversity, and our openness and the way we respect every faith."
Watch President Obama's visit live: