'All I Need' Out Friday — Track List and How to Preorder Foxes' Sophomore Album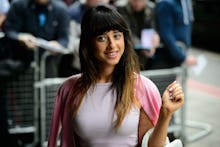 LEON NEAL/Getty Images
Singer-songwriter Louisa Rose Allen, perhaps better known by her stage name Foxes, is releasing her sophomore album, All I Need, on Friday. The album is currently available for preorder through iTunes. The 26-year-old British musician has made a name for herself by producing ebullient, narrative-heavy electro-pop ballads, the likes of which earned the young artist a Grammy in 2014. 
Foxes' All I Need follows the artist's debut studio album, Glorious. 
Read more:
"All I Need is out really, really soon and I wanted to sit down and just have a chat about making the album and the process that I went through with it," Foxes said in a video posted on Twitter addressed to her fans.
"I started writing like I usually do, just in a diary, about my life and quite personal things," she added. "It kind of just became more and more obvious that what I was writing was quite sad. And it was about a certain person. I think I thought I was happy. I kind of started to realize through the songs I was writing, I don't think I was very happy at the time."
The lead single off All I Need is "Body Talk," which surfaced on June 5, according to iTunes. Foxes followed the release with a second single, "Better Love" and a third, "Amazing," which has been accompanied by a music video. 
The video for "Amazing," a powerhouse of a synth-tinged pop ballad, paints a pretty picture of the freedom and abandon of youth, with a sharp focus on friendship, adventure and, above all, sisterhood. 
Foxes has already toured with big-name acts in the indie world, notably Marina and the Diamonds, Foxes' label mate, according to her biography. 
The good news for fans situated across the pond is that Foxes will embark on an extensive U.K. tour that begins on Feb. 26. The tour is set to conclude with a final show on March 12. For concert dates and ticket purchase options head here. 
The deluxe version of the LP boasts 16 tracks:
1. "Rise Up" (Intro)
2. "Better Love"
3. "Body Talk"
4. "Cruel"
5. "If You Leave Me Now"
6. "Amazing"
7. "Devil Side"
8. "Feet Don't Fail Me Now"
9. "Wicked Love"
10. "Scar"
11. "Money"
12. "On My Way"
13. "Shoot Me Down"
14. "Lose My Cool"
15. "All I Need"
16. "Rise Up (Reprise)"