Alicia Keys Calls on Paul Ryan to Bring Criminal Justice Reform to a Vote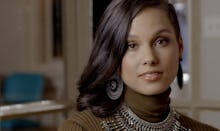 In an era of congressional dysfunction and partisan bickering, one of the few issues on which there is hope for bipartisan consensus is criminal justice reform.
The movement to reform the United States justice system has been gaining steam for several years, but has recently come close to becoming reality, thanks to a bipartisan legislative effort in Congress. One of the most important driving forces behind this progress has been an advocacy effort by celebrities and prominent individuals who have applied public pressure to elected officials and galvanized popular support.
Alicia Keys, the Grammy Award-winning singer and actress, has been one of the most outspoken advocates for reforming the criminal justice system. In November, Keys' We Are Here movement announced a partnership with #cut50, a movement founded by former White House official Van Jones that seeks to cut the prison population in half. The two groups are collaborating on #JusticeReformNOW, a call to action for the public to apply pressure to members of Congress.
As part of that initiative, Keys has recorded a Valentine's Day message directed at Republican House Speaker Paul Ryan, urging him to bring criminal justice reform to a vote in the House of Representatives.
"Help bring justice reform to a vote, so we can keep families together and reunite those unjustly torn apart by excessive incarceration," Keys says in the video, shared exclusively with Mic. 
Watch here:
The state of play: The U.S. prison population is the largest in the world — approximately 2.2 million people. After years of soaring incarceration rates, members of both parties worked for months on a package of reforms to overhaul sentencing laws and bolster rehabilitation programs.
Reformers have been encouraged by the willingness of Democrats and Republicans to work together on the legislation, which passed the crucial Senate Judiciary Committee in October.
"This is the one issue where everybody — from tea party conservatives to strong progressives, Paul Ryan to President Obama — want to do something," #cut50's Jones said in an interview. "This is a real test of whether our democracy can function."
As Mic's Zeeshan Aleem wrote last year, President Barack Obama has taken numerous symbolic and substantive steps toward implementing reform, both through executive action and in encouraging the congressional process to move forward.
Ryan has also been an outspoken supporter of reform, including the measure in his list of priorities for 2016. 
"I think criminal justice reform is probably the biggest [issue] we can make a difference on," Ryan told Politico in an interview in January. "There's a real way forward on that."
The road ahead: Outreach efforts by advocates like Keys have been crucial to galvanizing support on Capitol Hill.
"Alicia Keys came to Washington, D.C., having spent the day in Baltimore with some of the poorest kids in the country. She spoke from her heart," Jones said, referring to a November appearance Keys made in Washington. "She probably didn't know it, but we had 400 congressional staffers there, at night. And those people went back to their offices and they were pretty fired up. That really kept this issue alive."
Jones is convinced that the prospects for reform look brighter than ever, and that the bipartisan consensus that currently exists can be sustained throughout the legislative process.
"The argument has been won," he said. "Everybody knows what the right thing to do here is. It's just not the No. 1 issue on anybody's agenda."
Convincing members of Congress to make criminal justice reform a priority in the coming months is now the focus of Keys' and Jones' efforts — hence Keys' call for Ryan to bring the issue to a vote in the House.
"Because Paul Ryan has spoken so passionately about the need to do something about poverty and the need to do something about criminal justice reform, it makes a lot of sense to go ahead and get him to put his votes where his mouth is," Jones said. "Our hope is he picks up the mantle on this."