Russian Cosmonauts Are Performing a Live Spacewalk — And You Can Watch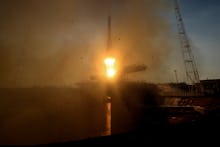 Two Russian cosmonauts aboard the International Space Station are taking a 5 1/2-hour spacewalk on Wednesday morning, and the whole thing is available to watch live from down here on planet Earth.
According to Space.com, cosmonauts Yuri Malenchenko and Sergey Volkov have left the inside of the space station to "perform a variety of tasks," including retrieving samples from the European Space Agency's Expose-R Experiment, install and test the effects of materials in the space environment and install safety devices on the International Space Station's exterior.
The livestream began at 7:30 a.m. Eastern and will continue until the conclusion of the spacewalk.
Malenchenko and Volkov are cosmonauts for Roscosmos Space Corporation, the successor agency to the Federal Space Agency recently created by Russian President Vladimir Putin.
According to a post on NASA's website, it is the 193rd spacewalk "in support of space station assembly and maintenance," and the sixth and fourth spacewalks for Malenchenko and Volkov, respectively. Further details from NASA below:
Expedition 46 Flight Engineers Yuri Malenchenko and Sergey Volkov of Roscosmos will don their spacesuits and exit the station's Pirs airlock at approximately 8:10 a.m. Their objectives are to deploy and retrieve several experiment packages on the Zvezda and Poisk modules and install devices called gap spanners, which will be placed on the hull of the station to facilitate the movement of crew members on future spacewalks.
The BBC additionally reported Malenchenko jettisoned a flash drive "containing messages and video from last year's 70th anniversary of Victory Day, which marks the end of World War II on the Eastern Front," sent in a direction that will ensure it does not collide with the station in its future orbit.