Congress Votes to Add Controversial "Scarlet Letter" to Passports of Sex Offenders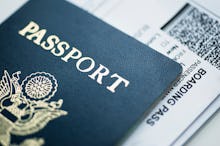 On Monday, Congress passed a bill in the hopes of ending child exploitation, sex trafficking and other sex crimes. That goal itself is one to which few would find reason to object — but the bill's critics are wary of the method, not the means.
Known as International Megan's Law, a variation on the shorthand the U.S. adopted after the 1994 rape and murder of 7-year-old Megan Kanka, the bill calls for "advanced notification" of sex offenders' travel plans and "unique identifiers" on their passports. 
Though its sponsor, Rep. Chris Smith (R-N.J.), said the legislation will thwart the crimes he believes sex offenders may be likely to commit while abroad, critics of International Megan's Law are already comparing it to a scarlet letter.
"It's secrecy that enables all of this," Smith told the Times of Trenton. "Secrecy is how these people exploit and, unfortunately, we're seeing a growing amount of sex tourism. They hop on planes and go to places for a week or two and abuse little children."
But the State Department found the results of the 2010 Government Accountability Office report Smith uses to validate the bill dubious at best. "Starting with the title, 'Passports Issued to Thousands of Registered Sex Offenders,' we are concerned that it conveys more 'shock value' than factual accuracy," the State Department wrote in their evaluation in the report's appendix. 
The evaluation added that the GAO failed to identify any "lawful reasons" why the government should deny or revoke the passport of a sex offender.
Other critics likened the vague stipulation of a "unique identifier" to not just the red letter 'A' Hester Prynne is made to wear in The Scarlet Letter, but to the yellow Star of David Germans marked Jews (and their passports) with in World War II. 
In a Washington Post op-ed, David Post wrote, "There is something truly odious — Scarlet Letter-esque, one might say — about requiring people to bear, for their entire lives, this conspicuous badge of dishonor, whatever their prior crime (for which they have already been duly punished) may have been." 
International Megan's Law would also strengthen the existing Angel Watch Center, which would, among other things, receive information about sex offenders' travel plans, and establish an annual review process to ensure that the Center is then notifying the countries to which sex offenders are traveling. 
Post suggested steps like these can be taken in a way that doesn't violate sex offenders' privacy. He said, "Disrupting the horrific international sex-trafficking industry is a laudable and important goal — but surely there is some line beyond which the government may not go in ostensible pursuit of that goal, and in my eyes this statute crosses it."