Is Kanye West Vegan? Here Are the Heavyweight Celebrities Who've Foregone Meat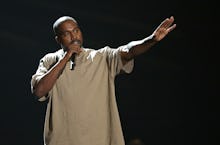 Matt Sayles/AP
Kanye West ate at a vegan restaurant once, but no, he's not vegan. West, who's rarely shied away from an opportunity to talk about himself, has never publicly said whether he's a vegan (if he were, fans would likely have heard by now). Several stars who are vegan, however, have openly and proudly discussed their animal product-free diets (Russell Simmons even wrote a book about it). 
"I think a lot of [celebrities] do it for the health reasons," Washington's Nu Vegan restaurant owner Vernon Woodland told the Washington Post after West and his wife Kim Kardashian West visited the restaurant last February. 
Read more:
Contrary to popular belief, Jay Z and Beyonce are both not vegan. The Jay-Bey vegan rumors stemmed from a 22-day vegan challenge they underwent very publicly in 2015 after becoming partners at a vegan food company, according to the New York Times. Bey made it clear she's "not a vegan" from the get-go, but told the Times "the benefits of a plant-based diet need to be known." (By the way, the Coveteur's Michelle Persad tried the coveted 22-day challenge once and essentially starved).
And then there's Natalie Portman, who was a seriously gung-ho vegan until she abandoned veganism when she was pregnant in 2011. "I actually went back to being vegetarian when I became pregnant, just because I felt like I wanted that stuff," she told The Bert Show on Atlanta's Q100 in a 2011 interview. "I was listening to my body to have eggs and dairy and that sort of stuff."
On that note, here are four celebrities who are actually currently vegan, or at least claim to be. (No, they don't eat meat or animal products. Yes, that includes chicken. Yes, that includes cheese. Yes, that includes eggs. Yes, that even includes honey.)
Russell Simmons
Simmons is the OG vegan celebrity. The hip hop mogul transitioned to a vegan diet more than 17 years ago after he started practicing yoga, he told Al Roker in a Today interview last year. "Well, it started with my yoga practice and you know, the practice of non-harming, 'ahimsa,'" he told Roker. "So I became a vegan because [of] compassion [for] the animals."
While it wasn't Simmons' original intention to lose weight, he shed a solid amount at first. "The first thing I did was lose 20 pounds and I haven't put that back on," Simmons told Roker. "Do I feel better than I felt 15, 17 years ago? Yeah I think so. I think I'm in pretty good shape."
He even wrote a New York Times 2015 best-selling book about it: The Happy Vegan. "A Guide to Living a Long, Healthy and Successful Life," the cover reads.
Erykah Badu
R&B queen Badu has been on a vegetarian diet since she was 19, she told Origin magazine in a 2013 interview, and started eating vegan-vegetarian when her first album dropped in '97. So, she's not a completely authentic vegan, but she's a lot closer to it than Jay Z and Beyonce. 
Badu's favorite food is kale, she told fans during Q&A at the fourth annual Texas Veggie Fair in 2013. 
Ellen DeGeneres
DeGeneres went vegan after watching documentaries and reading books on the topic, according to her website.
"I personally chose to go vegan because I educated myself on animal cruelty," DeGeneres wrote on her site. "Suddenly, I realized that what was on my plate were living things, with feelings. And I just couldn't disconnect myself from it any longer. I read books like Diet for a New America and saw documentaries like Earthlings and Meet your Meat, and it became an easy choice for me."
DeGeneres came under fire from animal activists for being a "hypocrite" after she launched a footwear line in 2015 that involved leather shoes, Breitbart reported. According to PETA, the leather industry has killed more than a billion animals. So yeah, that's awkward. 
Wendy Williams
Talk show host Wendy Williams went vegan in 2015 to lose weight (not to save the animals or for any holistic, do-goody reason) and told Dr. Oz she dropped 50 pounds. "It's been a life-changing thing," she told Oz in an interview about her new diet and weight loss last year. 
Williams went veg-happy on her website after the transformation, sharing vegan recipes like this entirely vegan Thanksgiving meal.
Correction: Feb. 3, 2016