10 Best 'Saturday Night Live' Skits of the Past 15 Years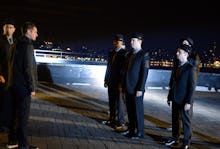 NBC/Getty Images
Amid waves of criticism that surface every few years, Saturday Night Live stands strong. The show's sketch comedy formula has clearly worked, as the show has continued to produce buzz-worthy skits for more than 40 years. In the process, it's propelled the careers of some of the best up-and-coming comedians with clever, sharable takes on current events. Among the most memorable sketches, SNL's best work in the past 15 years have revolved around the election cycle, absurd caricatures, pop culture savvy and digital shorts. Here's a selection of 10.
Read more: 
The Beygency: If you question the greatness of Beyoncé, you could be taken down by "the Beygency" — a shadowy group tasked with eliminating anyone who goes so far as to critique the queen's greatness. As host Andrew Garfield found out, once you're on their radar, you can't escape. 
"She is so good," Garfield says, hanging out with his friends. "I'm not a huge fan of that one 'Drunk in Love' song though." As it turns out, that was a big mistake. 
Lazy Sunday: Eleven years ago, when SNL aired their "Lazy Sunday" digital short, it become one of the first viral YouTube sensations. In the sketch, Chris Parnell and Andy Samberg rap about their excitement to check out The Chronicles of Narnia and eat cupcakes. 
"We were two white jackasses trying to rap," Parnell said in an interview with Variety. That may be, but the clip went viral — a huge new opportunity for the show to create internet phenomena. Most of all, though, it's absolutely hilarious.
Source: Hulu
Hogwarts Academy: Remember when Lindsay Lohan was a thing? It's crazy to think of now, but she was quickly becoming one of the biggest sex symbols in the country, whether she wanted to admit it or not. As a result, she produced some great skits on SNL during her peak — yet none were better than "Hogwarts Academy." 
In the skit, Lohan appears as a post-pubescent Hermione Granger, much to the delight and surprise of Harry, Ron and the rest of the wizarding world. It's an immature gag, but the likes of Seth Meyers, Will Forte and Jimmy Fallon — and Lohan, of course — carry it terrifically. 
Source: NBC
Close Encounter: When Ryan Gosling can't hold it together in the scene, you've made a funny skit. In this case, Kate McKinnon — one of SNL's best performers in the current lineup — talks to Pentagon officials alongside Gosling and Cecily Strong about their alien abduction. While Gosling and Strong had a friendly, enlightening experience, McKinnon's character got the short end of the stick, as she had to pee in a bucket and have her "knockers" batted around by the curious martians. 
Sarah Palin/Hillary Clinton Cold Open: Once John McCain announced that former Alaska Gov. Sarah Palin was to be his presidential running mate, the floodgates opened for one of SNL's best political impersonations. Tina Fey embodied all the ridiculous antics of Palin, to the point that it's difficult to wholly distinguish between the two. 
Of course, Amy Poehler's Hillary Clinton isn't half bad either. While they produced some great skits as the politicians, their joint address was the cream of the crop.  
Neurotology Music Video: In 2015, the religion of Scientology came to the forefront of mainstream media after HBO's compelling Going Clear: Scientology and the Prison of Belief documentary. SNL capitalized on the Scientology buzz by creating an archived music video for "Neurotology" — an equally funky religion that uses aliens as a religious backdrop. The best part of the sketch is the updates to the archived video, with captions describing where each of the singers are now. As it turns out, a lot of them are missing. 
MacGruber Meets MacGyver: Will Forte's MacGruber character has become a parody of itself, with a feature-length film of the action hero released in 2010. However, MacGruber's crossover with its source material — Richard Dean Anderson's MacGyver — is the best of the bunch, adding a bit of nostalgia to the entertaining absurdity. 
Source: Hulu
Girls Promo: HBO's Girls has for years battled the criticism that the majority of the drama on the show is basically small potatoes. That criticism looks all the more real if you bring in a new cast member from Albania. 
In this SNL parody, Fey joins the show as Blerta, the newest member of the Girls crew. It doesn't take long for her to question some of the other characters' daily struggles with men and relationships. "You are unpaid prostitute?" Blerta tells Jessa (Kate McKinnon). "You are lower than dog." In truly Jessa fashion, though, she takes it as a compliment.
Source: Hulu
Maya Angelou's I Know Why the Caged Bird Laughs: Maya Rudolph returned to SNL as a host in 2012. The highlight sketch was a fantastic fictional prank show hosted by Maya Angelou. Called I Know Why the Caged Bird Laughs, the fake series features the late poet pranking the likes of Morgan Freeman (Jay Pharoah), Dr. Cornel West (Kenan Thompson) and Stephen King (Bill Hader). 
Source: NBC
Dick in a Box: If "Lazy Sunday" started the digital short viral craze, "Dick in a Box" was certainly its peak. Justin Timberlake took his versatile talents to SNL to perform alongside Samberg, proposing the ideal holiday gift for your special someone. Thankfully, it also comes handy with some mindful instructions of how to, well, put your penis in a box. It, perhaps more than any of the others on this list, represents modern SNL.
Source: NBC