Sarah Paulson's Hair Was the True Star of 'The People v. OJ Simpson' Premiere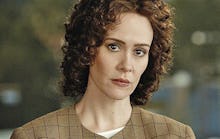 Mic/Twitter
It was certainly a riveting first episode of the FX Network original The People v. O.J. Simpson: American Crime Story. The highly anticipated series, which takes an in-depth look at one of the most controversial court cases in American history, kicked off Tuesday night with a handful of celebrities starring as other household names. There's John Travolta, who plays O.J Simpson's civil litigator Robert Shapiro, David Schwimmer, who plays defense lawyer Robert Kardashian and even Sarah Paulson, who stars as prosecutor Marcia Clark.
And then, of course, there is the one breakout star making her debut in the first season of this FX Network original series: Paulson's wig.
Read more:
Paulson's wig had one job during Tuesday night's episode, and it was to perform. There isn't exactly a way to perfectly describe it's effortlessly 90's style — it's a beautiful bowl cut which grew a tad too long, and was then given a proper perm. The end result? Flawless.
The best part about Paulson's do for the show? It actually took four wigs to keep Paulson's perfectly coiffed look throughout the season — and the actress named each of them. "Winston was the first," Paulson told E Online in 2015. "Gerard was the second. Miss Perfect was the last wig. We like liked her best so I just called her Miss Perfect. She was the only one that had a female name. The rest were all boy names."
Watch as Paulson's wig gently glides over her shoulder as she does one of those slow-moving stares just beyond the camera:
"They sure made Sarah Paulson's wig SO much better than Marcia's actual hair!" Stephanie wrote on Twitter while watching the show. "Those God awful corkscrew perm curls." To Clark's credit, it was a daunting trial, one closely watched and scrutinized by the prosecutor's peers and the media — though she really could have used a crimp job like Paulson.
Of course, the 90's court case required most of the !-list cast to don some pretty spectacular hairdos, though none could be outdone by Paulson's incredible wig. Arguably the second best of the night was the Kardashian wig, casually fluttering atop Schwimmer's head:
People across Twitter had some really spectacular takes on the wig. "Should I hate myself for thinking Sarah Paulson's Marcia Clark wig is serving up Christa McAuliffe realness?" Melinda Green asked, comparing it to McAuliffe, a New Hampshire teacher who was among seven crew members killed in the 1986 Space Shuttle challenger disaster.
Not sure if anyone else was thinking that much into it, but a unique perspective nonetheless! Others celebrated Paulson's wig throughout the course of the night, anticipating it's return in next week's second episode of The People v. O.J. Simpson: American Crime Story, Tuesday night on FX Network: