Here's the Real Deal With All Those Ingredients Gwyneth Paltrow Says Are Bad for Us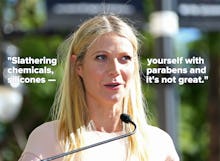 In January, Gwyneth Paltrow announced the launch of a new line of skin care, Goop by Juice Beauty, which will be sold through her juggernaut lifestyle company starting on March 1. Paltrow has applied her all-natural philosophy to products like cookbooks and makeup before, so it's unsurprising the new Goop skincare is, as she proudly announced to Vogue, nontoxic, up to 99% organic and free of any "chemicals, parabens and silicones."
Paltrow's Goop skin care is far from the first skin or beauty line to tout these "natural" standards. Brands such as Tata Harper, Kora and Jessica Alba's Honest Company, not to mention oldie-but-goodies like Burt's Bees and Lush, are all part of a growing "green beauty" movement that mirrors the craze for detoxes and organic food.
With her beauty line, Paltrow is sounding similar alarms to the ones that have driven people to all things natural and organic. Talking to Vogue, Paltrow said that "slathering yourself with chemicals, parabens and silicones — it's not great." In an interview with Glamour, she described her products as being so natural "you could eat it."
Yet just as juice cleanses and "all-natural foods" have been debunked for their supposedly superior health claims, green beauty leaves itself open to the question of whether it's actually safer than products with all those scary "chemicals, parabens and silicones."
And the fact that we still haven't been able to answer that question points to a fact few people realize: Even today, in 2016, no one has full control or understanding of what's in our beauty products.
So what are parabens and silicones anyway? To actually know whether something is toxic or life-threatening, as Paltrow might have you thinking, it helps to understand the common lingo. For starters, "chemicals" is a catchall word — when someone refers to chemicals, they are actually talking about thousands of diverse materials.
There are about 10,000 chemicals found in our "personal care products," according to green beauty company Beauty Counter. The company adds that only 10% of these 10,000 products have "safety data."
While some of these materials have been found to be harmful to human health, there isn't scientific evidence that all "chemicals" are threats.
"The very word 'chemical' is often synonymous with toxin or poison," Mark Lorch, a biochemist at the University of Hull, wrote for BBC. "We use phrases like, 'It's chock-full of chemicals,' to imply something is artificial and bad for you."
Parabens, another often misunderstood word, is also a blanket term. Parabens refers to a whole class of preservatives used to kill mold and bacteria in products. Parabens are controversial because of a paper published in the Journal of Applied Toxicology in 2004 that linked such preservatives with breast tumors and claimed parabens "have been shown capable of disrupting cellular function." But many believe the study's findings have been overstated, as cosmetic chemist Perry Romanowski told Into the Gloss in 2015:
The study was not done in a scientifically rigorous way in that did not have a control group in it. They found parabens in noncancerous breast tissue too. Really, what that study said was that there should be more studies done.
Meanwhile, the the U.S. Food and Drug Administration approves of the use of parabens in personal care products, based on studies that found them to be safe up to levels of 25%. The typical level for cosmetic products is more like 0.01 to 0.3%.
Silicones are even less obvious of a threat, despite how often the word is name-dropped by green beauty companies. Silicone is a synthetic polymer found in thousands of products, including skin and hair care products, where they're said to "seal in shine" and moisture.
Silicone has had its reputation scarred thanks to silicone breast implants being linked to complications, including cancer. Though some beauty bloggers say silicone products will clog your pores, no evidence has validated those claims, and silicones haven't actually been found by experts to be hazardous to human health.
So who decides which stuff is bad for us? Silicones are deemed fine, in fact, even by the Environmental Working Group. The EWG is a nonprofit organization with a deep database of the ingredients used in cosmetics, which it lists for the public on its website alongside its own safety recommendations. It's also been criticized for its fear-mongering tactics and for making sweeping statements about the toxicity of ingredients without sufficient data to support the claims.
But EWG has found success by filling the informational void left by the FDA, which leaves the majority of ingredients untested for safety and the cosmetics industry virtually unregulated. According to Tina Sigurdson, a staff attorney for the EWG, compared to food and drugs, cosmetics have the least amount of oversight by the FDA.
"Cosmetic manufacturers are not required to substantiate the safety of their products or to report adverse events to the FDA," she told Mic. As the agency states on its website:
Under U.S. law, FDA does not have the authority to require cosmetic manufacturers to submit their safety data to FDA, and the burden is on FDA to prove that a particular product or ingredient is harmful when used as intended.
That means when questionable products hit the market, there's little recourse for consumers to understand the risks or hold companies accountable. "The FDA has no mandatory recall authority when it comes to personal care products," Sigurdson said. 
So when, in 2015, haircare brand Wen faced backlash as countless women claimed its cleansing conditioner was causing hair loss and other injuries, the FDA didn't have the legal authority to recall the product, and Wen wasn't required to alert the FDA about the influx of negative reports.
The Federal Food, Drug and Cosmetic Act, the law that dictates the FDA's authority over the cosmetics industry, hasn't been updated much since it passed in 1938, while the regulation of food and drugs has been. The law currently simply states that products cannot be adulterated or mislabeled. Growing concerns in the 1970s about consumer safety led to the creation of the Cosmetic Ingredient Review, which was set up and funded by the industry, the Personal Care Products Council, along with "support" from the FDA. 
But regulation hasn't changed much, particularly when it comes to ingredients. By comparison, the European Union is known for its strict regulation of personal care products: It requires manufacturers to prepare a "a product safety report" before putting a product on the market and has banned over 1,300 ingredients for cosmetic use, compared to the 11 banned by the FDA. (Hydroxycitronella, one of the ingredients considered a potential culprit in the Wen scandal, is, in fact, reportedly banned in the EU.)
That said, the FDA does investigate and report on ingredients; many common names like parabens, phthalates, talc and beta hydroxy acids are covered on the FDA website. But take a look and you'll find that, despite what the Paltrows and the EWGs of the world state, the FDA often notes that these chemicals are risky only in high concentrations that cosmetics rarely contain, or that the health risks aren't 100% proven by the existing studies.
Some clarity coming to the "green beauty" world: So how do we actually know the right answers? Some may come soon in the form of the Personal Care Products Safety Act. Introduced to Congress in 2015, the bill is unique not only because it's a bipartisan effort, but also because it's gained support from both industry players of the Personal Care Products Council as well as green beauty advocates such as Beauty Counter. 
If passed, the bill would give the FDA more legal authority over the cosmetics industry and would require the FDA to assess five ingredients for safety annually.
This means that we may not have to rely on environmental activist groups or Gwyneth Paltrow to tell us which ingredients are "not great" and what's so virtuous we could eat it.