Rand Paul Drops His Bid for the Presidency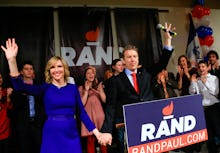 He says he ignited "brushfires of liberty" — but his campaign for the Oval Office just burned out.
Kentucky libertarian Rand Paul announced Wednesday that he's suspending his bid for the Republican presidential nomination and will refocus his efforts on hanging on to his Senate seat.
"Across the country thousands upon thousands of young people flocked to our message of limited government, privacy, criminal justice reform and a reasonable foreign policy," Paul said in a statement announcing his decision. "Brushfires of liberty were ignited, and those will carry on, as will I."
The senator brought his father, former Texas Rep. Ron Paul, out on the Iowa trail in hopes of rekindling some of the sensation the elder statesman created during his own quest for the Oval Office.
The younger Paul certainly drew some passionate followers, with notable popularity among students and younger voters who were roused by his opposition to government surveillance at home and what he termed too much U.S. military intervention overseas, particularly in the Middle East.
In the end, though, there apparently just weren't enough people who wanted to "Stand With Rand" for the senator and eye doctor to see a viable road to the White House.
Paul's bailout comes two days after a weak showing in the Iowa caucuses, in which he earned less than 5% support, and just ahead of the New Hampshire primary, where his arch-nemesis, Donald Trump, enjoys a cushy lead in the polls.