MTA Employee After a Boy's Suicide Caused Delays: "I Hope the Motherf***er Suffered"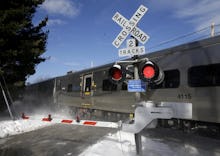 New York City commuters are used to hearing train conductors berate passengers for minor transgressions like holding the doors open and not letting fellow passengers off before shoving their way in. 
But during a delay in service on Monday, one Metro Transit Authority employee went too far. After learning that a delay on the Metro-North line was caused by 16-year-old boy who committed suicide by jumping in front of a train in the Bronx, passengers heard the employee say over the intercom, "I hope he suffered like a motherfucker."
Gothamist reports the unnamed employee may not have been aware he or she was talking into a hot mic as the train sat in Grand Central Station. Multiple people posted accounts of the incident to Twitter.
"Such language and sentiment has no place on Metro-North Railroad," MTA spokeswoman Mere­dith Daniels told the New York Post. "We are aware of these allegations and are looking into them."
"It's a good thing that human life matters enough to delay all these people to take care of it, because in some parts of the world that I've been to they wouldn't do that," one commuter told CBS.
The Journal-News reported the suicide victim was a sophomore Fordham Preparatory School, which is especially pertinent given the suicide of another Fordham Prep student earlier this month, also by train. 
Columbia University Medical Center child psychiatry chief Dr. Moira Rynn told NBC New York  she suspected the latest tragedy was influenced by the earlier suicide, and encouraged concerned parents of academy students to talk to their children about suicide.
Fordham Prep president Rev. Christopher J. Devron released a statement published by Gothamist:
The sudden and tragic death of a member of our sophomore class last evening has deeply shocked and saddened the entire Fordham Prep community. We are in close contact with the young man's family and have assured them that our prayers, sympathy and support are with them in their time of need.In order to support and care for our community during this difficult time, Fordham Prep will be providing trained experts and grief counselors to meet with students, faculty, staff, and parents.We will also host a parent meeting at which specialists and members of the Prep's crisis team will address their concerns and questions.
While New Yorkers have been vocal in their outrage, the employment status of the MTA worker has not been disclosed.
Editor's note: For information about suicide prevention or to speak with someone confidentially, contact the National Suicide Prevention Lifeline at 1 (800) 273-8255 or the Crisis Text Line at 741-741. Both provide free, anonymous support 24 hours a day, seven days a week.