'Hamilton' Cast Will Perform Live at the 2016 Grammys — Here's How to Watch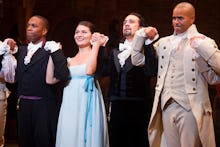 Charles Sykes/AP
Get ready to go ham, because the cast of Broadway's Hamilton will be performing at the upcoming Grammy Awards via a live satellite feed, according to an announcement on Wednesday from the Recording Academy.
"The Hamilton cast and crew are absolutely thrilled to be a part of this year's Grammy Awards," Hamilton creator and star Lin-Manuel Miranda said in a statement. "The music community's response to our cast album has been overwhelming, and we're honored to be a part of such a special night. To perform from our home at the Richard Rodgers Theatre is a dream come true."
Read more:
The cast of Hamilton is nominated for a Grammy this year for best musical theater album. They join a long list of artists scheduled to perform at the awards show, including Adele, Justin Bieber, Kendrick Lamar and the Weeknd.
In addition to the press release from the Recording Academy, the cast of the musical recorded a promo video, posted on Wednesday, announcing their upcoming Grammy performance.
According to the announcement from the Recording Academy, the performance by the cast of Hamilton is only the "fourth time that a performance will be broadcast live via satellite" during the awards show. The 58th annual Grammy Awards, hosted by Grammy veteran LL Cool J, will air live on CBS at 8 p.m. Eastern on Monday, Feb. 15 and will stream live online through CBS All Access.