Trailer for the Miles Davis Biopic 'Miles Ahead' Will Change the Way You Look at the Icon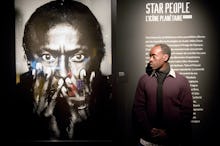 Few geniuses are as misunderstood as Miles Davis. In life, he was one of music's committed innovators, almost to a fault. Jazz purists frowned upon his fusions, and they bewildered potential new audiences looking for a bit of old-timey rock 'n' roll. 
In death, we've come to realize Davis was playing far more than jazz. He laid the groundwork for hip-hop, trance, dub, new wave, drum and bass, grime, electro and dubstep. And he did so with an effortless confidence and cool.
This is the Davis that director and actor Don Cheadle is looking to channel in his upcoming Miles Davis biopic, Miles Ahead. Tuesday, the public got its first look at what that's going to look like, and it seems absolutely wild. Shots of car chases, robberies and gun fights play out in the film's first trailer, which is set to some devilishly paced swing. It truly follows the advice Cheadle's Davis offers in the opening: "If you gonna tell a story, come at it with some attitude, man."
Part of Cheadle's ambition in making the film the way he did was to try to match Davis' relentless creative energy. He did his damnedest to avoid the usual biopic tropes. 
"I thought, especially with someone like Miles Davis, whose life seemed to very antithetical to that, and whose art was so mercurial and spontaneous and not dedicated to any sort of form that he had done before," Cheadle told Entertainment Weekly. "He went on to the next thing and he kind of never looked back. I thought it would really be totally anathema to him to do something that felt standard, so to speak."
The film is set around 1979, when Davis retreated from music, consuming little aside from cocaine and TV, as he described in his autobiography. The story focuses on Davis' return to music, which is interrupted when a tape of Davis' latest sessions goes missing. Suddenly, the film turns into buddy-sleuthing movie, and Davis and an invasive Rolling Stone reporter (Ewan McGregor) go out on an armed hunt to get it back.
The trailer offers no hints of the general stiffness and staleness that often subconsciously accompanies the word "jazz" in the minds of young people. Davis pushed back against all of the elitest and academic overtones jazz began to take on toward the end of his life. There's a reason the genre's latest champions — Kamasi Washington, Robert Glasper, Thundercat, Terrace Martin, four of the masters who helped Kendrick Lamar shape his radical new sound on To Pimp a Butterfly — point to Davis for inspiration. It's heartening to see a trailer interested in reclaiming his name.
"Don't call it jazz, man — that's some made-up word," Cheadle's Davis says in the trailer. "It's social music."
Miles Ahead opens April 1. Watch the full trailer below.