The World Is Watching as 'Serial' Protagonist Adnan Syed Appeals for a Retrial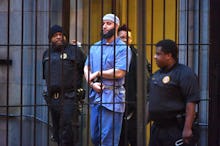 Adnan Syed, the Baltimore man serving a life sentence for the 1999 murder of his ex-girlfriend Hae Min Lee, is again getting his day in court.
Syed, now 35, became a near-household name when journalist Sarah Koenig made his case the subject of her podcast Serial, which had thousands of listeners arguing that Syed was innocent — or at the very least deserved a new trial. 
In a 2014 BuzzFeed poll, only about 10% of people said they believed Syed was guilty, 20% said innocent and 50% said that there was "something fishy about the details." But an overwhelming 92% said they felt his lawyer, Cristina Gutierrez, did a poor job of representing her client.
Wednesday marked the beginning of a three-day appeal hearing in Baltimore, after Syed's attorney C. Justin Brown filed a motion to reopen post-conviction proceedings. Brown argued that Syed's original trial failed to throw out cell tower evidence used against him despite its unreliability. Indeed, the state's cell phone evidence was its most damning case against him.
One report said Koenig had a front-row seat at Wednesday's hearing, and it was later reported that the podcast would return to Syed's case as it again captures attentions. 
The star of Wednesday's courtroom drama was Syed's former Woodlawn High School classmate, Asia McClain, now Asia Chapman. During the 12-episode run of Serial, Koenig spends multiple episodes tracking Chapman down and wondering why Gutierrez never had her take the stand in during the initial trial. 
In the podcast, Syed told Koenig that Chapman reached out to him, saying she believed in his innocence: She had seen him at the library during the very time he was said to have committed the murder. In 2015, as Syed's lawyers made moves for an appeal, Chapman signed an affidavit confirming her claims. 
On Wednesday, Chapman reaffirmed her statement with three simple words. When Brown asked her if she was with Syed that day, at that time, at that location she said, "Yes, I was."
Those on Team Syed (and at least one user with an entire account devoted to the cause) rejoiced on Twitter.
Brown presented new evidence showing notes Chapman took when she met with prosecutor Kevin Urick in 2010, upon Brown's first petition for an appeal. Chapman scribbled down what appear to be quotes from Urick as he discouraged her from reaching out to Syed.
According to the notes, Urick said, "Oh, he killed that girl" and that there's "a snowball's chance in hell that they could reopen the case with these" — presumably Chapman's — "accusations." 
According to NBC News, Brown also addressed the issue of Gutierrez's poor health — she had multiple sclerosis and diabetes — toward the end of Syed's first trial. He argued it made her ill-equipped to represent Syed. (Gutierrez died of a heart attack in 2004.)
Though the hearings are slated to conclude on Friday, Rabia Chaudry, a friend and longtime advocate of Syed's innocence, tweeted that they could go on longer. A decision, though, cannot come soon enough for his family. On Wednesday, CBS interviewed Syed's mother, Shamin Rahman, who wept while discussing the matter.
"It's like one day you have a nice family, your three children," she said. "You want to raise them and give them education, and suddenly it's like the storm comes in and they destroy everything."
Correction: March 8, 2016