Justin James, World's Most Hated DJ, Responds to Sexism Scandal in the Worst Way Possible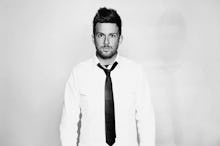 Mic/Facebook
"Silence is golden" is an adage that's quite outside DJ Justin James' wheelhouse, given that he gets paid to make noise. Yet James — who recently found himself at the center of a scandal of his own making after penning a sexist ad calling for female DJs — amplified the echo chamber Wednesday when he responded to his critics by penning a defensive rant and posting it to Facebook.
In a statement, James addressed those who have labeled him a misogynist, accusations that began after a recent post from James to a public Facebook page gained traction in the media. The post, which James shared to a Facebook group that serves as a network for female DJs, was a female DJ recruitment ad. The post delineated that minimum requirements for would-be applicants included weighing between 105 pounds and 120 pounds and that candidates "do not suck." "I only work with attractive female DJs that know how to read a room and play," James wrote.
Read more:
"Do I have your attention?" James began in his Facebook post Wednesday. We're all ears. 
"For those of you that have seen it, in retrospect, the post that I made was not the most tactful, but my intention was not malicious. I was given a very specific set of criteria to employ here in Asia and instead of wasting people's time I decided to be honest and up front about the requirements. Unfortunately in this respect, people are not a fan of honesty and my post very obviously made some people angry."
In his statement, James said he debated waiting for the story to blow over but instead chose to "speak up and stick up" for himself. And in an attempt to do that, he draws a parallel to the entertainment industry, suggesting Hollywood's standards are just as stringent. "You might be the best at what you do, but if you do not fit the bill then unfortunately that part is not for you," James wrote.
James also makes a point of singling out some of the female producers and DJs he respects most, specifically Maya Jane Coles, Annie Mac, Anna Lunoe, Baby Anne and DJ Spinderella — all in an attempt to prove he is, in his own words, "the furthest thing from a misogynist." Bizarrely, James adds Paris Hilton to the list of women performers he respects, a comment that, perhaps understandably, perplexed some users on Facebook.
But what about James' statement that "If they wanted talented DJs, then they would just hire men"? 
In his post, James qualified that statement as "misplaced sarcasm." He also took his public address as an opportunity to blast the individual who exposed him by making their correspondence public. "As I said in my personal message with the troll that started all of this: If you are offended by my words, I am sorry that I am not sorry," James wrote. 
The fury spurred by James' scandal is unsurprising, considering that the longstanding and pronounced gender gap in the music industry is no secret. And perhaps less shocking is the fact women musicians earn less than their male peers. 
According to the gender ratio of male-to-female DJs at some of the largest music festivals around the globe, Vice's Zel McCarthy pointed out we're far from reaching equal representation of the sexes behind the DJ booth. Elsewhere, Marie Claire's Jessica Bridgeman points to the rise of powerhouse female artists such as Beyoncé, Ellie Goulding, Lady Gaga and Taylor Swift as a sign of progress. 
Yet this problem runs deep. The gender gap is a systemic issue that extends far past what we see onstage at concert halls and music festivals. "Women are as visible as ever in music — between them, Taylor Swift, Beyoncé and Lady Gaga have sold over 22 million records since 2008," Steve Haruch wrote for Nashville Scene. "But look closer at the credits on those albums, and women's names are few and far between. What about producing and engineering?"
"I am saddened that I have broken the internet the last few days with my words, but happy that the community has been able to unite for a cause much bigger than myself, that unfortunately I am at the moment a poster boy for, and that I have ignorantly been contributing to," James concluded in his statement, which one user on Facebook called a "non-apology."
"Furthering a [misogynistic] agenda is not an excuse," wrote another Facebook user commenting on James' post, "Caring about equal rights and equal opportunity is the farthest thing from small minded."
Correction: Feb. 4, 2016