Rihanna's "Navy" Has Her Back No Matter What, and Here's Proof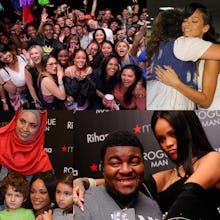 Mic/AP
If it wasn't already clear by the rebellious release of her eighth studio album Anti, Rihanna has an extremely devoted fandom. The "Navy," as the Barbadian hip-hop artist affectionately refers to it, is RiRi's legion of fans that has formed its own virtual community complete with fan sites, social media profiles and subreddits.
"They go through the same things," Rihanna told Oprah in 2012, explaining the close relationship she's taken on with fans across the globe. "I want them to feel comfortable knowing that I have flaws as well. I want them to know those flaws. I'm afraid of the pedestal... I want to be a peer to my fans."
Read more:
The Navy is a ride or die type of group. The fans have often said they feel a personal connection with their queen, and aren't afraid to share it. Rihanna fans rally behind every event she headlines, every album she releases and even every fire selfie the 27-year-old artist drops on Twitter or Instagram. 
In fact, Rihanna came exploding back onto the music scene after an extended silence with a selfie. Donning a nearly $9,000 pair of Dolce & Gabbana headphones, RiRi announced to the world she was listening to Anti ahead of its release. The photo received 1,000 retweets a minute immediately after it was posted to Twitter on Jan. 25. The photo received well over 100,000 retweets in less than 24 hours, mostly from her excited Navy. 
"One word to describe Rihanna? Honest," a Navy member wrote for Billboard's 2015 Fan Army Face Off. "She knows that she's not a role model and she does what she wants, when she wants. She knows how to remain simple while being a queen and that's why we love her. Since 2005, Rihanna taught us not to worry about what others think and it's probably what makes the strength of the Navy."
Rihanna certainly reciprocates the love to her fans. When her eighth studio album released in early 2016, Rihanna tweeted a code for her first million fans to download a copy of Anti for free as it was available exclusively through Jay Z's content streaming service Tidal. "Gift to my navy!!!" Rihanna wrote when she released her album code for fans eagerly awaiting new music. 
Anti went officially platinum In less than 14 hours, with more than one million people that downloaded the singer's latest album. 
"All over the world, from France to Brazil through Indonesia or South Africa, fans have created friendships," the fan continued. "Last thing: 'Nobody's fans go hard like RihannaNavy.'"
Correction: Feb. 3, 2016