How Does Netflix Pay Studios? What the Streaming Giant Does to Obtain Content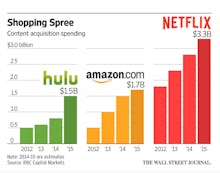 The Wall Street Journal/RBC Capital Markets
Netflix is the largest paid-subscription streaming site for films and television shows, boasting over 75 million subscribers (and countless password-moochers) worldwide. As many tech sites and consumer guides have pointed out, Netflix also happens to host the largest catalog of available content, in comparison to the remaining "Major Three": Hulu and Amazon Prime. But every few months, user searches for a specific film or show yield the dreaded "related titles." With a total revenue in excess of $6.7 billion reported after the end of Q4 2015, it would seem that Netflix doesn't have an issue with cash flow. In reality, Netflix hemorrhages money due to the exorbitant overhead of licensing titles and marketing expenses. And yet, Netflix continues to replace expired titles with others while also producing new original content. How is this business model fiscally possible?
Read More
Revenue, Content Acquisition, and Expanding Market
To be clear, Netflix does use the majority of their revenue to pay studios for licensing agreements. The Wall Street Journal reported in 2015 that of the Major Three, Netflix had planned on designating the most funds toward acquiring content – more than what Hulu and Amazon had projected on spending, combined.
But the cost of licenses has become an expensive endeavor due to bidding wars with other streaming sites for exclusivity (not to mention new competition from formerly cable-only channels like HBO and Showtime creating standalone streaming services). Consequently, more and more titles disappear, suggesting that Netflix doesn't have the capital to sustain its breadth of content. 
Market Realist reports that while Netflix did beat their quarterly earning estimates for the Q4 of 2015 (which prompted the price of their S&P stock to rise), the company's cash flow was still $276 million in the red, which seems like a drop in a bucket compared to the overall company debt of $2.4 billion. Market Realist further reports that in order to continue developing the company's newly expanded international market, as well as pledging a proposed $5 billion toward more original content, Netflix anticipates incurring even more debt in 2016 and 2017.
(Wait ... what?)
It would seem that Netflix only continues to function due to an intricate game of selective bill paying; even though Netflix accumulates a lot of revenue from monthly subscription fees, streaming, DVDs and monetizing the export of licensed titles to other formats, Netflix's profit margins are low because they forfeit a lot of said revenue to overhead, distribution, and operating expenses.
Though Netflix is technically in debt, the bonds associated with them have a "BB credit rating," meaning the chances of the company running into issues due to nonpayment are relatively low. Therefore, whatever cash flow the company does have can be siphoned into development and infrastructure, going into debt in the interim but planting seeds for future gains.
A Shift in Focus Toward Original Content
In their "Letter to the Shareholder" published in January 2016, Netflix gushed about the critical successes of several new series – Aziz Ansari's Master of None, Marvel's Jessica Jones, 10-part miniseries Making a Murderer – before detailing their goals for the upcoming year.
In 2016, we plan to launch over 600 hours of original programming, up from about 450 hours in 2015. Beyond the sheer volume of content, the breadth of our original programming will continue to expand with current plans for new seasons of 30 or so original series (including The Crown and The Get Down), eight original feature films, 35 new seasons of original series for kids, a dozen documentaries, and nine stand up comedy specials. 
Additionally, Netflix noted that traffic continued to rise in comparison to their competition, suggesting there was an audience for the company's original programming despite their dissimilar genres and serial formats.
Exposure and Less Red Tape in Lieu of Monetary Incentives
In "Netflix Movies: Producers Weigh Hidden Downsides," Hollywood Reporter's Pamela McClintock writes about Netflix's acquisition strategy through the lens of two recently commissioned feature-length war dramas (Cary Fukunaga's already-uploaded Beasts of No Nation, and Richie Smyth's Jadotville, currently in post-production), as well as multi-title deals with Adam Sandler (for four feature-length comedies) and Leonardo DiCaprio (for a documentary series on the environment). Although Netflix will shell out what seems to be handsome premiums for the distribution rights of a film, they are usually lump sums without any offer of backend, which is generally where most profits are made should a project be successful.
The ramifications of Beasts of No Nation's release, simultaneously available for streaming on Netflix and screening in theaters with a limited release, was unusual, to say the least. As CinemaBlend reports, Netflix "broke the sacred 90-day window that's typically observed from a film's theatrical release before moving to other mediums," which led to "theater chains like Regal, AMC, Cinemark and Carmike to go so far as to boycott the film altogether."
A person close to the film told McClintock that she and her producers at Participant Media debated "endlessly" before accepting the deal, saying, "Netflix wants to break new ground with this film and create a new paradigm for watching specialty movies" before conceding that "It was a buyout. Netflix has to make it worth your while to give up the lottery ticket."
However, the team behind Jadotville were a bit more optimistic because the agreement with Netflix helped alleviate the typically labyrinthine finance structure associated with a feature-length film. 
"The traditional 'independent' model would have meant an interparty structure of seven or eight individual parties wrapped up in a banking deal and the ever possible potential for differing creative objectives," Jadotville producer Alan Moloney told Hollywood Reporter. "This way, we have one source of financing and a very supportive creative partner. What's not to love?"
His optimism toward the partnership with Netflix is key, ostensibly referring to Netflix's good brand. Many directors/producers will "forfeit" any perceived revenue in order to associate with a company that played an important role in the "Golden Age of Television" (but in many ways jumpstarted the era of "Peak TV"). And if nothing else, at least there would be a receptive audience for a product that might be otherwise niche.
Netflix Banks on Nostalgia in More Ways Than One
As a side note: Netflix can and will purchase the rights to older, syndicated shows in bulk because they are usually sold at a cheaper rate. Expanding their catalog at an economical rate continues to give consumers more bang for their buck, but it also gives the company the opportunity to bank on nostalgia; reboots of Arrested Development, and Wet Hot American Summer have already been uploaded to Netflix's library. Elsewhere, purchasing rights to an entire series can contribute to a runaway nostalgia effect; Netflix's ordering of a Gilmore Girls miniseries reboot stemmed from public interest, the buzz of which undoubtedly started after Netflix uploaded the original series in its entirety to its catalog.