Fetty Wap 'ZOO 16: The Mixtape': Track List and How to Listen to Rapper's Latest Project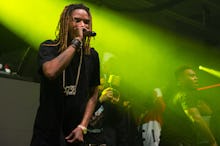 Scott Roth/AP
Fetty Wap and the Zoo Gang released Monday the newest mixtape Zoo 16: The Mixtape on DatPiff. The mixtape features songs from members of the Zoo Gang, Fetty's crew from his hometown of Paterson, New Jersey.
Zoo 16: The Mixtape is hosted by DJ Big L 4 Eva. The mixtape comes before Fetty's "Welcome to the Zoo" tour, which will launch Friday in Maryland, according to HotNewHipHop. Fetty will be teaming up with right-hand man Monty, and "White Iverson" rapper Post Malone. 
Read more:
° Twitter's Trending #KanyeAnalPlaylist Is a Perfect Storm of Slut Shaming and Homophobia
The project comes months after Fetty Wap's self-titled debut album, his team-up with rapper French Montana for the 13 track mixtape Coke Zoo, titled after the Zoo Gang, and French Montana's group Coke Boys, according to HipHopDX, and his free five-track extended play titled For My Fans EP.
Track list: The 17-track mixtape includes several songs from his past projects, including remixes of "My Way," "Whatever" and "Again." Collaborators Khaos, Guwii Kidz, Blicky, Monty and more are featured. 
1. "ZOO16 Freestyle"
2. "Death Before Dishonor"
3. "My Way (Zoomix)"
4. "Hit Something"
5. "Zones"
6. "Whatever (Zoomix)"
7. "Love Song"
8. "Kidz Ride"
9. "Dreaming"
10. "Again (Zoomix)"
11. "Deep End"
12. "One I Want"
13. "Couple Bands (Zoomix)"
14. "Fuss Or Fight (Zoomix)"
15. "Poppin Pstols"
16. "On Me"
17. "I'm Straight (Zoomix)"