How Does Hulu Make Money? Hulu's Business Model Explained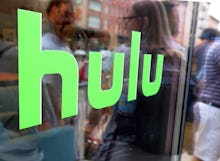 Dan Goodman/AP
The streaming service Hulu currently boasts nearly 9 million subscribers and more than 700 million hours of content streamed through the platform, according to the company website. Hulu offers countless TV shows and movies, much of it free, so how exactly are they making money? Let us explain it.
Read more:
Let's get one thing out of the way — Hulu was never a struggling start-up. The company launched its site in 2007, as a partnership between NBC and Fox, reported the New York Times. Not only did Hulu have big pockets behind it, it also started out with an extensive catalogue of shows that included network hits like The Office as well as programs that had long been off the air, like The A-Team, reported the Times.
In 2009, Disney, which owns ABC, switched from being a competitor to a teammate when it joined Hulu as a partner, allowing Hulu to add shows from ABC, ABC Family (now Freeform) and the Disney Channel, reported the Los Angeles Times. 
Hulu has since struck similar deals with several other networks, including the CW and the BBC. Ads have been a consistent presence on the site, and a source of revenue, since its start, and on its website, Hulu boasts "[o]ver 2,000 advertising partners."
In 2010, Hulu debuted a paid subscription service, Hulu Plus, a move that the New York Times called "a tacit acknowledgment of the tremendous pressure that Hulu's ad-supported business model has been under." 
In 2015, the company followed up Hulu Plus with a "No Commercials" subscription option at a higher monthly price, reported Fortune, which noted that "Hulu has been one of the few video streaming services to try to have it both ways, charging a monthly subscription fee for its full catalog, while also showing ads to its subscribers."
The combination of ads and subscription fees is apparently paying off for Hulu, however. In January, 247WallSt. reported that Hulu's estimated 2015 revenue was "around $1.5 billion from both its subscriber and advertising models."