"Go Hard Boyz (Banshee)" Lyrics: Fetty Wap Calls for "Bikes Up, Guns Down" in New Single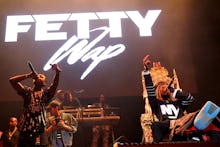 Bennett Raglin/Getty Images
New Jersey rapper Fetty Wap is showing no signs of slowing down, with the release of his newest song "Go Hard Boyz (Banshee)." The leader of the Zoo Gang posted the new track on SoundCloud Tuesday. 
"Bikes up, guns down/ Fuck a whip, I bought a banshee," Fetty raps about his desire to buy a Yahama Banshee motorbike as opposed to a car. "10,000 deep like a stampede." The single was produced by Frenzy, an official producer for Fetty. 
Read more:
"Nothin' like these rappers, don't do shit for cameras/ We believe in bikes, we don't believe in hammers," the New Jersey rapper says. "And pull up on any block, swervin' and poppin' wheelies." Even after September's serious motorcycle accident, Fetty apparently hasn't been deterred in his enjoyment of fast bikes.
Source: Soundcloud
Fetty Wap recently dropped his newest project Zoo 16: The Mixtape,  which features his Zoo Gang crew in the 17-song track list.  The mixtape is hosted by collaborator DJ Big L 4 Eva. 
Fetty's "Welcome to the Zoo" tour will launch on Friday in Silver Springs, Maryland, with right-hand man Monty, and "White Iverson" rapper Post Malone touring across the nation.