The Best US Cities for Singles — Gay, Straight and Anyone In Between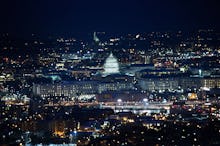 Brendan Smialowski/Getty Images
It may be that location, not timing, is everything. If you're single, the city you call home can make all the difference, depending on what your goals are. If you're looking for love, your ideal location will vary based on your sexual preference, your salary, cost of living and, of course, the number of other singles around you. We took a look at the numbers and found four cities that seem to hold promise for everyone. 
Read:
For straight singles
In Feb. 2015, NerdWallet crunched the numbers on the country's 50 biggest cities, taking into account three factors: 1. The unmarried population, subdivided between number of women for every 100 men and number of men for every 100 women (which, we realize, is limiting); 2. The typical cost of a date, accounting for median income and the probable bill for an average three-course dinner and a movie for two; 3. The city's "date-friendliness," determined by tallying up the cultural-attraction-to-resident ratio and scoring its walkability. 
NerdWallet's top five cities for straight singles were Boston (combined score: 73), Washington, D.C. (combined score: 69), Philadelphia (combined score: 66), Baltimore (combined score: 65) and Cleveland (combined score: 65).
For LGBTQ singles
Where does that leave LGBTQ singles? Unfortunately, the numbers here aren't particularly cohesive. In May , NerdWallet took a look at the 20 friendliest cities for LGBT individuals and found that the best 10 were, in descending order, San Francisco; Portland, Oregon; Austin, Texas; Providence, Rhode Island; Baltimore; Philadelphia; Seattle; Salt Lake City; Los Angeles; and Orlando, Florida. Of those, Baltimore, Los Angeles, Seattle, San Francisco and Washington, D.C. made Chemistry.com's 2012 list of the best cities for LGBT singles looking for serious relationships.
From these, we've pulled the following four singles-friendly cities: 
1. Washington, D.C.
Our nation's capital is apparently an excellent destination for singles. It has everything a memorable date needs: great bars and restaurants, monuments, the Smithsonian, 19 free public pools, theaters, breweries and all the politicians you could ever ask for. Dates are pricey, according to NerdWallet, but the city is easy to get around on foot. For "young professionals," D.C. is a great place to date.
2. Baltimore, MD
Baltimore is NerdWallet's top city for single men, as of Feb. 2015. It's also home to an impressive aquarium, many free museums (featuring both arts and history) and at least one cabinet of curiosities. NerdWallet places the price of an average date night at around $70 and gives it a walkability score of 66. 
3. San Francisco, CA
Do you like trolleys? Fine dining? Balmy weather? The idea  of roller skating in a church? Do you entertain an abiding fascination with Alcatraz? Are you a sucker for a good farmers market? Then San Francisco might just be the place for you — especially if you happen to be a woman. According to NerdWallet's Feb. 2015 data, San Francisco is the best city for women. 
4. Boston
Boston also showed up on Tech Insider's Dec. 2015 round-up of the 20 best cities for gay singles, placing eighth out of the top ten cities for gay men. NerdWallet gave it a walkability score of 80 and deemed it a great city for "young, educated singles" (and also for lovers of American history and baseball).