Is the Weeknd On Tour? Here's What We Know About Artist's 2016 Plans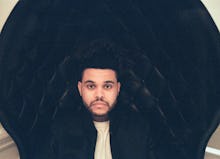 Uncredited/AP
There's good and bad news for U.S. fans of the Weeknd, who are hoping to catch the R&B luminary in concert in the near future. The rough news is that there's not an extensive list of tour dates on deck in the U.S. for the Weekend. However, according to Songkick, the artist will make precious few showings in the coming months before skipping the country for a spell to join Rihanna's Anti World Tour. 
The musician has a concert scheduled on Feb. 12 in Inglewood, California, Songkick reported, followed by a performance at the Barclays Center in Brooklyn, New York, on March 30. 
Read more:
The Weekend will also be performing at the 58th Grammy Awards show Feb. 15, and will also appear as a headlining act at Hangout Music Festival alongside Calvin Harris, Florence & the Machine, Alabama Shakes, Ellie Goulding, Lenny Kravitz, Haim and many, many more. The music festival will take place in Gulf Shores, Alabama, and will run from May 20 to May 22. 
The news regarding the Weeknd's live performance schedule in 2016 is a bit brighter for his fans outside the U.S. The artist will join Rihanna in Amsterdam on June 11. The weeks-long undertaking will see the Weeknd open for Rihanna in a number of cities across Europe, including, Dublin, Ireland, London, Glasgow, Scotland, Stockholm, Sweden, Paris, Berlin and, finally, Zurich, Switzerland on Aug. 12. 
The Weekend, real name Ab?l Makkonen Tesfaye, hails from Canada and is also a songwriter and producer. To date, the artist has released three studio albums, beginning with 2012's Trilogy and continuing with 2013's Kiss Land and last year's Beauty Behind the Madness. "Can't Feel My Face," the artist's hit single off Beauty Behind the Madness, dethroned Justin Bieber's "What Do You Mean" on Billboard's Hot 100 chart in September.
And according to Billboard, the Weeknd's been shattering records as of late.
"Impressively, he's just the 10th act to hold the Hot 100's top two with two tracks as a lead artist on both, and the first since the Black Eyed Peas, with 'I Gotta Feeling' and 'Boom Boom Pow,' in 2009," Billboard reported in September. "He's the first solo male to achieve the feat, as a lead with both hits, since T.I. in 2008."