Musicians Who Smoke Marijuana: Some of the Best Quotes From Performers Who Smoke Weed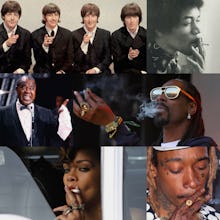 Mic/AP
The marijuana industry is exploding throughout the United States, as states move to legalize weed for both medicinal and recreational purposes. Generations of performers have long sang about their love for pot, with modern pop stars like Rihanna praising the substance for its uplifting effects and notorious smokers like Bob Marley famously saying, "when you smoke the herb, it reveals you to yourself."
Read more:
° Twitter's Trending #KanyeAnalPlaylist Is a Perfect Storm of Slut Shaming and Homophobia
In fact, there are a number of talented musicians who unapologetically smoke weed — some of whom you might never guess.
Snoop Dogg
"It's from the earth — it's not some man-made shit," Snoop told GQ in 2013. "It's actually growing from the ground straight to you, so it's just like eating a vegetable. You know what I'm saying? Cancer and diseases that never had a cure, now all of a sudden you got people taking chemotherapy, and they're also having a toke and they live longer."
Louis Armstrong 
"It really puzzles me to see marijuana connected with narcotics... dope and all that crap," famed trumpet player Louis Armstrong wrote in his memoir. "But when Judge give a man 20 years for the word from a cop who'd probably had it in for the victim (could be you, me or anybody) the accused man is charged with just having marijuana in his possession... for that he gets 20 years — he's an outcast — nobody want any part of him (especially the one's never smoked it or even tried it to see for themselves). Why condemn a man for something you think you should..."
"I am different," Armstrong continued. "I smoked it a long time... and I found out one thing. First place it's a thousand times better than whiskey... it's an assistant — a friend."
Rihanna
"I'd rather be smoking weed, whenever we breathe, every time you kiss me," Rihanna croons in the beginning of "James Joint," a THC-infused interlude off her eighth studio album Anti. Rihanna often mixes drugs and relationships to churn out some of her most classic hits, and hasn't been shy about her fondness for the herb. 
Willie Nelson
"I think people need to be educated to the fact that marijuana is not a drug. Marijuana is a flower. God put it here," stoner musician Willie Nelson once famously said, quoted in Cheech & Chong's Almost Legal Book for Stoners. "If He put it here and He wants it to grow, what gives the government the right to say that God is wrong?"
Beach Boys frontman Brian Wilson
When Beach Boys' Brian Wilson was asked by a CBC reporter if drugs were influential to his creative process, Wilson said, "Very much so, yeah. Marijuana helped me write Pet Sounds." 
Wiz Khalifa
"Legalize it," Khalifa told MTV News in 2010, as he was a rising star in the rap industry who was refusing to give up his public displays of affection for marijuana. "When I was younger, I thought it was bad, but I got to a point where it worked for me. It don't work for everybody else. People gotta stay free, people need jobs, people got parents that probably wouldn't be with it, so don't ruin your life trying to be like me. That's my advice."