4 Twitter Hacks and Tricks Everyone Should Be Using to Maximize Efficiency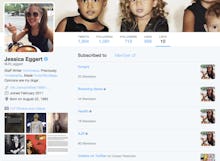 Mic/Twitter
Twitter can be daunting. So many people to follow, so many 140-character tweets updating by the second in real time. That's where Twitter hacks like lists and hashtags come in — to make a Twitter pro out of anyone. 
Read more:
Lists: Lists is one of Twitter's most efficient features. It allows users to organize the accounts they follow into separate lists that operate as sub-Twitter feeds. For example, users can add all the celebrities they follow to a list titled "celebrities" or all the news organizations they follow to a list titled "news." 
Users can also subscribe to other people's public lists by finding the "Lists" tab on their profile and clicking on whichever lists they'd like to follow. 
Hashtags: #Hashtag often. Whereas hashtags can be obnoxious and virtually pointless on other social media platforms, they've been proven to double engagement on Twitter. Hashtags can help connect you to a conversation that's happening outside your direct social realm.
Bonus tip: Put hashtags in your bio to gain traction on Twitter. There's a greater chance users will be directed to your site if there are searchable hashtags in your bio, according to digital intelligence agency CommsAxis.
Keyboard shortcuts: Twitter has a set of keyboard shortcuts that can help streamline activities like navigating through timelines, tweeting, retweeting, checking notifications and more. 
Here they are:
Tweetdeck
Tweetdeck is an external site that basically serves as a Twitter-organizing miracle. It allows users to organize Twitter feeds by not only lists but also searches. Furthermore, users can tailor searches in several advances ways, like tweets including a specific hashtag only from verified accounts that got at least two favorites and 3 retweets. 
Bonus tip: Scheduling tweets on Tweetdeck. Users can write out a tweet and set a publish time.