Super Bowl 50 Betting Odds: Predictions on Carolina Panthers and Denver Broncos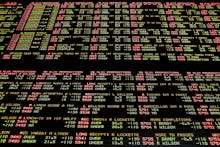 John Locher/AP
Once it was determined that the Super Bowl 50 matchup would be between the Carolina Panthers and Denver Broncos, oddsmakers in Las Vegas went to work determining the betting odds for the most important NFL game of the season. After all, it's the most bet on sporting event, year in and year out. While the betting line is still subject to change before the Sunday's kickoff, here are the latest odds for the game. 
Read more:
According to the sports betting site OddsShark, the Panthers are currently -5.5 point favorites, with 58% of total bets thus far favoring the team. "In setting the point spread, sportsbooks are not making predictions that the Panthers will win by at least six points," David Fucillo wrote for SB Nation. "Rather, it is set based on what will get the most even amount of money bet on the game. If 50 percent of the money is on the Panthers and 50 percent is on the Broncos, then the house is guaranteed to win because of their cut of all wagers." 
The odds favoring the Panthers can be attributed to Carolina's strong regular season record — at 15-1, the team had the best record in the league — and its emphatic 49-15 win over the Arizona Cardinals in the NFC Championship game. 
Moreover, the Denver Broncos — while obviously a good team, since they clinched a Super Bowl berth — have struggled on offense at times this season (thankfully, their defense was top-ranked). For the regular season, the Broncos were ranked 19th in the league in points scored per game at 22.2, whereas the Panthers were first in that category, averaging 31.3. Additionally, the team's quarterback, Peyton Manning, has had one of the worst seasons of his 18-year career. Even though he missed six regular season games due to injury, Manning was second in the league in interceptions with 17 to only nine touchdowns.
However, even though the general public is backing the Panthers, there could still be a lot of money bet in favor of the Broncos before the kickoff this Sunday. "There's still a long ways to go — we'll take 80% of overall wagers on the game Saturday and Sunday," Wynn sports book director John Avello told Vegas Insider. "We're still long on the Panthers right now, but it wouldn't be out of the ordinary to see our position completely change from the first week." 
In the meantime, fans can enjoy the pre-Super Bowl buzz surrounding their favorite teams and players from Super Bowl media day before the big game on Sunday at Levi's Stadium in Santa Clara, California.