Hillary Clinton and Bernie Sanders Likely to Hold 4 Additional Debates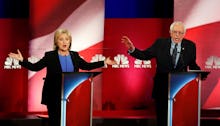 Amid signs that the battle for the Democratic presidential nomination will be a longer slog than once anticipated, Hillary Clinton and Sen. Bernie Sanders (I-Vt.) will likely hold four additional debates on top of the two already scheduled.
The Washington Post's Greg Sargent reported on Wednesday that the two candidates have agreed to participate in an MSNBC-hosted debate in Durham, New Hampshire, on Thursday; a face-off in Flint, Michigan, sometime next month; a debate in Pennsylvania in April and another one in California in May.
The pair were already slated to face off in Milwaukee on Feb. 11 and Miami on March 9, in accordance with the Democratic National Committee debate schedule released last year.
A DNC spokesman confirmed to Sargent that the committee would sanction the new debates.
The great debate over debates: DNC chairwoman Debbie Wasserman-Schultz, who endorsed Clinton in her 2008 presidential bid, came under criticism for allegedly limiting the debates — all but one of which have occurred on weekends, so far — to protect Clinton, the party's frontrunner. Former Maryland Gov. Martin O'Malley, who dropped out of the Democratic race after a disappointing showing in Monday's Iowa caucuses, accused Wasserman-Schultz last year of attempting to "circle the wagons and protect" Clinton.
But the debates have turned out to be a boon to Clinton's candidacy. Her commanding performance at the Democrats' first showdown in Las Vegas on Oct. 13 helped reboot her bid after her poll numbers had plunged amid new scrutiny of her private email use as secretary of state. After BuzzFeed reported last week that MSNBC was seeking to organize the Feb. 4 debate in New Hampshire, the Clinton campaign quickly agreed to participate.
After initially agreeing to the Thursday debate, the Sanders campaign suggested this week that he might not participate after all, depending on whether Clinton agreed to another three debates.
But as Sargent noted, Sanders told CNN on Wednesday that he would indeed debate in New Hampshire on Thursday.
"We didn't get all the commitments that I wanted. We got California, we got Michigan — and that's good. I wanted a debate in New York City ... but Secretary Clinton has not agreed to do that," Sanders said. "But I believe we're looking at a debate in Pennsylvania...but I do believe we have her commitment, as I understand it, for three additional debates."
The two candidates will also appear separately at a CNN town hall forum on Wednesday night at 9 p.m. Eastern.