Meet the First US Athlete to Wear a Hijab to the Olympic Games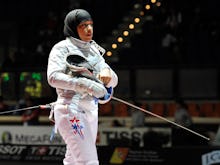 When Ibtihaj Muhammad was 13 years old, her mother drove past the local high school in Maplewood, New Jersey, and saw a group of kids wearing athletic gear she'd never seen before. "I don't know what that is," she told her daughter, according to the Wall Street Journal, "but when you get to high school, you're doing it."
The sport turned out to be fencing and, true to her mother's word, Muhammad joined the team the next year. It worked out pretty well for the now-30-year-old: This summer, she will join the U.S. fencing squad as a competitor at the 2016 Summer Olympics in Rio de Janeiro, BuzzFeed News reported.
Muhammad won the bronze medal at the Women's Saber World Cup in Athens on Saturday, a victory that gave her enough points to prevent any other American competitor from surpassing her on the Olympic qualifying scoreboard. 
"I've been doing really well," she told BuzzFeed. "I felt excited to medal (at the World Cup in Athens), but I honestly didn't think much about the Olympics."
Though Muhammad played multiple sports as a teenager, the unique appeal fencing had for her mother was clear from the get-go: Competitors were covered head-to-toe by their uniform, a full-body protective suit that happens to square perfectly with traditional Muslim ideals around modesty. As a result, Muhammad was able to compete in her hijab, the headscarf worn by many Muslim women.
Muhammad will now be the first hijabi athlete in Team USA history to compete at an Olympic Games. In doing so, she's also solidifying her place in a global sorority of top-notch hijabi athletes.
Mic profiled a number of these women in October. They include Bilqis Abdul-Qaadir — a Massachusetts native who is one of the few hijabi basketball players to ever compete in the NCAA women's tournament — and Khulsoom Abdullah, a 39-year-old Pakistani weightlifter who fought an intense court battle in 2010 to be able to compete in hijab.
Linking these athletes are the restrictions they've faced due to their religious attire. Until very recently, international governing sports bodies like FIFA prohibited women from wearing headscarves during competition, a policy that's sparked heated debate over the past few years and even forced some national sports teams to withdraw from competition altogether.
But the world is evolving. Now, a growing number of athletic apparel companies are even investing in breathable hijabs, a move that looks to encourage greater numbers of Muslim women to compete in sports. Meanwhile, athletes like Ibtihaj Muhammad continue breaking barriers as they take their talents to farther reaches of the world.
The rest of the U.S. Olympic fencing team will be selected in April.
h/t BuzzFeed