Bernie Sanders and Hillary Clinton Go to War Over Who's the "Real Progressive"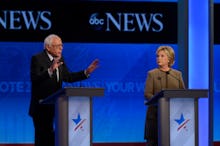 Sharply escalating his rhetoric against Democratic presidential frontrunner Hillary Clinton, Sen. Bernie Sanders (I-Vt.) on Tuesday suggested that Clinton is not a "real progressive" — setting off a bitter war of words between the two candidates following their virtual tie in Monday's Iowa caucuses.
Sanders fired the opening salvo as he spoke to reporters on Tuesday in Keene, New Hampshire. Asked whether he considered Clinton a progressive, his response was hardly affirmative.
"Some days, yes. Except when she announces that she is a moderate. Then I guess she is not a progressive," Sanders replied. "I think, frankly, it is very hard to be a real progressive and to take on the establishment in a way that I think it has to be taken on when you become as dependent as she has, through her super PAC and other ways, on Wall Street or drug company money."
Sanders' remarks referred to comments Clinton made on the campaign trail in Columbus, Ohio, in September, proudly owning the centrist label. "You know, I get accused of being kind of moderate and center," CNN quoted Clinton as saying. "I plead guilty." Appearing Tuesday on MSNBC, Clinton sounded a similar theme.
"We've got to get back to the middle," she told the network's Chris Matthews. "We've got to get back to the big center and solving problems. That's how we make progress in America."
Fighting back: It's an argument made with one eye on the looming general election battle against Republicans, but even as Clinton girds herself for that potential fight, she's forcefully pushing back against Sanders' questioning of her progressive credentials.
Stumping in New Hampshire on Wednesday, Clinton called Sanders' comments a "low blow," citing her work to pass the Children's Health Insurance program, fight Social Security privatization, advance gay rights around the globe, pursue gun control and defend reproductive rights.
Clinton's campaign continued hammering on those themes via Twitter Wednesday:
Not letting up: Call Sanders unimpressed. In a series of tweets on Wednesday afternoon, Sanders' campaign depicted Clinton as an inauthentic progressive, effectively throwing the kitchen sink at her by citing her support for the Iraq War, Wall Street fundraising and mixed record on issues like the Keystone XL pipeline and free trade:
Risks: While Sanders' criticism taps into some progressives' unease with Clinton, his aggressive attacks aren't without risks. 
In suggesting that Clinton's campaign contributions from Wall Street mean she isn't a progressive, for instance, Sanders raises the question of whether he considers President Barack Obama — who remains overwhelmingly popular among the Democratic electorate — a true progressive. Obama has raised millions from the financial industry, a fact Clinton was quick to note in last month's Democratic debate in Charleston, South Carolina.
Seeking to re-assemble the Obama coalition, Clinton has warmly embraced his legacy — a strategy that may reap dividends in states like South Carolina, whose predominantly African-American Democratic electorate propelled Obama to a 29-point victory over Clinton in 2008 but is now leaning heavily toward Clinton.
Cognizant of Obama's popularity among Democratic voters, Sanders has also moved to bear-hug the president, jettisoning his criticisms from the left and declaring that "by and large, over the last seven years, on major issue after major issue, I have stood by his side as he has taken on unprecedented Republican obstructionism."
A restive electorate: Despite broad satisfaction with Obama's stewardship, though, much of the Democratic electorate is eager for even more sweeping change — and receptive to Sanders' call for a "political revolution."
Railing against economic inequality and persistently high unemployment levels among groups like African-Americans and Hispanics, Sanders has channeled much of that unease. A Reuters survey released this week found that 73% of American voters — including 54% of Sanders supporters — are convinced that the country is on the wrong track. Among supporters of Donald Trump, whose campaign has ridden a wave of anti-establishment sentiment on the Republican side, 87% think the country is on the wrong course.
With anger and discontent pulling the parties' bases in polar directions, Clinton has sought to appeal to voters frustrated with political paralysis as a "progressive who likes to get things done" and who won't take on long-shot, divisive causes like single-payer health care — a pointedly pragmatic contrast to Sanders' more idealistic pitch. The question confronting Democratic voters is which approach captures the true spirit of 21st-century progressivism.