Has Matt Damon Won an Oscar? Yes — But It's Complicated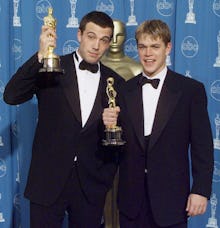 Hector Mata/Getty Images
This year, Matt Damon has a chance to win an elusive Academy Award for his leading role in The Martian. It would be his first — with a major caveat to that first. He's already won a best original screenplay Oscar for Good Will Hunting, alongside Ben Affleck. Damon was also nominated for his performance in that film.
Of course, Damon's turned in some impressive performances in his past, and an Oscar is not the end-all, be-all of being known as a good actor. Yet, if he's able to capture an acting Oscar this year, he'd fall into some elite company. 
Read more:
When you factor out actors who have now transitioned to full-time writing or directing roles, such as Clint Eastwood, Woody Allen and Orson Welles, there is a very small list of current actors who have been nominated for an Oscar for both writing and acting. Damon is on this list, as is his friend Affleck — who also won an Oscar for producing Argo in 2012. However, for those who have won both awards, the list includes one name: Emma Thompson. 
Thompson won an acting Oscar in 1993 for Howards End, while she took home her best adapted screenplay award in 1996 for Sense and Sensibility. Damon obviously has a chance to technically do this — though it seems more likely that Leonardo DiCaprio will take this year's prize for his mental and physical perseverance in The Revenant.
Credit Damon, though: He may not be the winner this year, but he's had several Oscar-worthy performances in his career that stand the test of time. Take Good Will Hunting, which essentially was his introduction into a hot Hollywood commodity. His chemistry with the late Robin Williams and Affleck is tremendous — a perfect compliment to the strong writing from the young duo.
"Good Will Hunting is another auspicious sign that the best of Young Hollywood is not only bringing back respect for the craft of acting, but for the cogent telling of tales as well," Margaret McGurk wrote for the Cincinnati Enquirer at the time.
He also delivered top-tier performances in the Bourne trilogy, as titular character Jason Bourne. Seeing Damon's character uncover mysteries about his shady past with bullets ricocheting around him was undeniably entertaining, and he brought a specific set of gifts to the part. To wit: When the fourth Bourne film, The Bourne Legacy  — the first one without him — hit theaters, it wasn't nearly as warmly received as the other films.
Moreover, he's shown he can handle complex roles as well. In Martin Scorsese's Oscar-winning The Departed, his character Colin Sullivan knows he's always one miscue away from spending a life in jail. Colin works for law enforcement but acts as an informant for Mafia boss Frank Costello (Jack Nicholson). What's most impressive is the way he imbues sympathy for the character, even when he's at his worst, trying to expose the antithesis of his persona: an honest cop (DiCaprio) working for the Mafia. 
Even if Damon loses his Oscar bid this year, he's proven time and again that he can take on versatile acting roles and, when so inclined, strong scripts. He's already set to reprise the Jason Bourne role in the near future. It may have been a rougher year than expected in 2015, but he'll bounce back.