The Ultimate Spotify Running Playlists to Power You Through Your Workout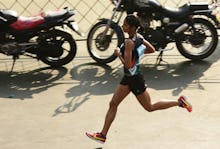 Hindustan Times/Getty Images
Playlists help runners set the mood of their exercise before starting, so they can enjoy their workout without having to swipe through endless music selections. Luckily for music fans and runners alike, Spotify specializes in playlist curating and offers some of the best exercising playlists to start on that summer body early. 
Read more: 
Here are some of the best Spotify playlists to run to:
If club bangers and hot hits are your preferred songs to exercise to, Flex Zone provides over an hour of music to run to. Rising artists like Fetty Wap, Rich Homie Quan and Rae Sremmurd are included in this beats-focused playlist, while powerhouse hip-hop artists Gucci Mane, Mike WiLL and Nicki Minaj appear in several tracks as well.
HIIT-Hop 
This fast-paced hip-hop playlist features smooth beats and fiery verses from the likes of Nicki Minaj, Kendrick Lamar and Run The Jewels. Songs like "Feeling Myself" will have you running down the street as if it were your own personal catwalk, while "Make That Sh*t Work" by T-Pain and Juicy J will get your heart racing and your booty bouncing. 
Nike Running Tempo Mix
Nike offers an extensive — and quite literally exhaustive — running playlist on Spotify which lasts nearly thirteen hours. The powerful track list features a variety of performers, including the soulful stylings of Leon Bridges, to the mainstream bops from Demi Lovato, Jessie J and Avicii. 
If you're looking to tone up for a hot date, look no further than the musical stylings in this sexually charged playlist. Ciara, Missy Elliot and Jeremih top off the fire track list with beats like "Birthday Sex" and "1, 2 Step," while Christina Milian gets steamy in her claim to fame, "Dip It Low."
Cardio Workout 
This is a great playlist to listen to for consistent beats and upbeat tempos. While some of the songs will boost adrenaline, like Calvin Harris' "How Deep Is Your Love," other songs will let your mind drift off as you chase your goals, including Carly Rae Jepsen's "Run Away With Me." 
Headbanger's Workout
Spotify has a playlist for just about everyone, including the metal fans. From Slipknot's "Psychosocial" to Papa Roach's "Last Resort," this workout will have you slamming your feet to the ground harder than a musician destroys an electric guitar onstage.