Target Australia Just Demonstrated How to Show Off Valentine's Day Lingerie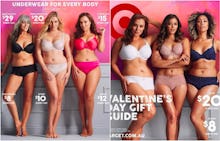 In its low-key, other-side-of-the-world way, Target Australia is killing it with body diversity. The Aussie store chain, which has made inclusivity part of its brand, cast three curvier models to rep its Valentine's Day gift guide. 
Australia-based models Margaret Macpherson and Jazz Bell posted shots of the new ads on their Instagrams on Wednesday, along with a slew of body-positive hashtags that drive the message home: Curvy bodies are just as gorgeous as those without curves.
As Macpherson also shared on her Instagram, the Valentine's Day shoot also included an older, gray-haired model. 
Target Australia (no affiliation to the company's U.S. stores) has gotten notice across the pond for its inclusive ways. In December, the store shot a swimsuit spread featuring a similarly slate of models, of various heights, sizes and ages. 
It also regularly includes curvier models on its website and social media, where photos are often accompanied by the tagline "For any body and every body" or "Yay for every body."
With these new photos, the story isn't just including different body types, the kinds we don't see enough in clothing ads. It's presenting them for Valentine's Day, in lingerie, as an image of sexiness — and sexiness, as we know in the real world (outside fashion ads) isn't limited to one size of women.
We can probably assume the lingerie ads we'll be flooded with over the next weeks leading up to V-Day will be filled with tall, slender models who represent but one version of sexy. But hey, there's no reason they need to. Ya hear that, Victoria's Secret?