4 Must-Have Apps for Couples Doing Long Distance Relationships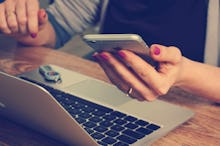 William Iven/Unsplash
Absence may make the heart grow fonder, but most would agree that long-distance relationships are hard. Although nothing will replace physically being next to your partner, thanks to technology, communication or a digital date is just a tap away. 
About 75% of college students claim to have been in a long-distance relationship at one point or another, according to Time. Plus, jobs and other exciting opportunities can often split couples apart.
Read more:
While daunting, long-distance relationships can be worth the pangs of loneliness. Since communication is so limited, long-distance couples can be more open with each other and feel like each interaction is more intimate and special, savoring each moment, Today reported. And since there's no way to always know what the other person is up to, couples are also forced to have a deeper trust with each other. 
Now more than ever more, people can choose from a multitude of mobile apps to help close the gap and that go beyond messaging. After all, it's the little things that count. From an app that lets you send digital kisses to one that'll control a sex toy from across the world, here are some apps to help a long-distance relationship.
Its function is obvious by its name. Couple is a free app designed to be a private network for any couple. Long-distance couples can use it for basic functions such as chatting, sharing videos and photos or live-sketching with each other. Eventually, a timeline reminiscent of one from Facebook appears, but it is dedicated solely (and privately) to the couple, and not embarrassingly on Facebook. LDR couples can use the ThumbKiss feature, which is when they touch the same spot on their phone to make their phones vibrate simultaneously, for small moments of connection.
Physical intimacy is one of the largest hurdles to jump when it comes to grappling with an LDR — and it's one that reoccurs. Luckily, technology has helped developed the next-best thing to being with each other. We-Vibe is a series of vibrators and sex toys that have an accompanying app called We-Connect, which lets couples control the toys from anywhere in the world.  
It's difficult to always set aside time for lengthy phone and FaceTime conversations, and sometimes it's easier to say something rather than text it. HeyTell is a free voice-messenger app that allows for someone to easily record voicemails for their parter to listen to on their own time. It's great for both venting and leaving sweet surprise messages.
Life gets busy, and it can get tough to constantly communicate each other's whereabouts. SimplyUs is a free app to help coordinate and organize an LDR couple's life together. They can share their to-do lists and calendars with each other, so everyone is at peace.