Vapes Are the Hot New Accessory at Men's Fashion Week, Because of Course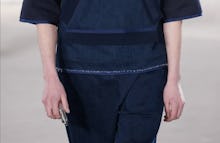 During General Idea's show at men's New York Fashion Week on Tuesday, as models trotted down the runway in deconstructed black, white, navy and camel-colored uniforms, something kept catching people's eyes. 
Look closely... 
Some of the models held something in their hands, something slender and small, a silver device that looked like it could be... maybe... possibly... a vape. 
And (ding! ding! ding!) it was! It was a very fashionable vape indeed by the brand Innokin, whose vapes retail in the $40 to $70 range. 
As Mic has reported before, weed and fashion are common companions, and using them as Fashion Week fodder is actually not that new. In July, designer Richard Chai handed out fancy Pax vapes, which retail for upward of $250, to his front-row audience. In September, high-end indie fashion retailer Opening Ceremony teamed up with Pax and started selling them. 
Pax has made its business on being stylish, with an Instagram presence worthy of a fashion blogger. Other vape companies have also started paying attention to style, like Crystal Cult, whose founder Olivia Alexander previously told Mic, "I realized that these are devices like your sunglasses and phone case that you interact with all the time ... Just like anything like that, it becomes a part of who you are."
The union is one that makes sense, especially given the increasing legalization of marijuana and the push to curb cigarette smoking. It's all more mainstream than ever (hey, just look at Sarah Silverman on the red carpet with her vape pen). So it might as well match our clothing and be as stylish as the rest of the stuff in our pockets or purses. (And yes, we now have weed purses.) 
So whether you're smoking weed or nicotine out of these fancy vapes, now you can know that the style influencers at Fashion Week wholeheartedly approve.
h/t The Cut